Re: Call By Rivers NLC, TUC For Police Commissioner Mbu's Removal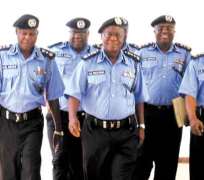 The Peoples Democratic Party in Rivers State unreservedly condemns the threat of strike action by the state leadership of TUC and NLC if the Inspector General of Police does not transfer Commissioner of Police, Mbu Joseph Mbu out of Rivers State within 21 days. We also enjoin on all workers to ignore the said call made by two partisan union leaders who are merely doing their master's bidding.
It is no longer secret that the NLC Chairman in Rivers State, Chris Oruge and his TUC colleague, Hygenus Onuegbu are paid agents of Governor Chibuike Amaechi who have sacrificed the genuine interests of the good law abiding workers of Rivers State for Amaechi's pot of porridge. How else can these two unprincipled and drowning men justify their continued relevance and consumption of more porridge without their idiotic ultimatum?
In their greed, Oruge and Onuegbu could not see the absurdity in gathering 13000 persons in one place just to hand over letters of employment and/or posting in one day. Even the most inexperienced administrator appreciates the impossibility of such a task. Simple mathematics shows that it will take 180 days for each of those 13000 to collect each of their letters using a minimum of 20 minutes per person starting from announcing the name, identification to actual handover of the letter.
Inbuilt in the stupendous process is the recipe for riot and violence. This is definitely what Commissioner Mbu, an experienced professional identified and sought to prevent by dispersing the crowd peacefully and without teargas.
Rather than commend Commissioner Mbu, the duo of Oruge and Onuegbu acting in concert with their paymaster and masquerading as the leaders of Organised Labour are blasphemously using the name of the peaceful Rivers Workers to threaten fire and brimstone.
We ask Oruge and Onuegbu to tell Nigerians what they have done to protect Rivers People in general and the workers in particular from the anti-people and anti-business policies of Governor Amaechi? They are silent when workers are not paid for months while they dine sumptuously in the Government House Banquet Hall and thereafter leave fully stashed in food and other accoutrements of the visit. They are silent when workers salaries are slashed by the Amaechi administration so long as their personal booty increases.
They are silent when workers' children cannot go to school because the so called rebuilt schools are kept as ornamental objects of admiration for bounty seeking guests to Rivers State Government House instead of places of learning. They are silent when people die as a result of inaccessible healthcare caused by the demolition of UPTH and the rot in BMH. They are silent regardless of the fact that almost all roads in the environs of Port Harcourt are inaccessible causing unbearable traffic jams and untold hardship to residents of Rivers State who constitute the same workforce they claim to represent.
They are silent in the face of businesses moving out of Port Harcourt daily due to the anti-business policies of Amaechi Government and the resultant high unemployment. They are silent on the whereabouts of Karibi-Whyte Hospital regardless of the fact that 38 million Dollars has been blown on it.
They are silent on the 45 million dollars used to buy a non-existent Rivers State Aircraft. They are silent on who now owns the demolished Olympia Hotel. They are silent on who now owns Supabod building. They are silent on who has bought up Old GRA. They are silent on the true owner of Golf Estate. They are silent on the monumental fraud called mono-rail.
They are related to Chief Andrew Uchendu, Amaechi's Chief Campaigner.
Oruge and Onuegbu have recently built mansions in their respective communities and choice areas in Port Harcourt, Lagos and Abuja at the expense of Civil Servants.
They are currently on Rivers State Government payroll and executing various contracts valued millions of naira awarded to them by the Governor of Rivers State at the expense of workers in Rivers State.
We assure Oruge and Onuegbu that the People of Rivers State cannot be deceived. Simple logic tells us that you can deceive all of the people some of the time. You can also deceive some of the people all of the time. But you can never deceive all of the people all of the time.
The era of deceit is gone in Rivers State forever and for good.
Oruge and Onuegbu should focus on what they were elected to do: ensuring the welfare of workers.
Asking 13000 workers to stand in the rain and sun for 180 days to collect letters of employment that can be delivered to them on-line, by courier services, by post and in several other ways is to say the least inhuman and wicked.
We state without equivocation that Oruge and Onuegbu are threats to law and order in Rivers State and should be identified as such. They should be held fully responsible for any acts of brigandage caused by their cajoling of the peaceful Rivers State workforce into acts of violence.
Finally, we call on all persons in authority and the workers in Rivers State to ignore these mercenaries who mean no one any good.
Signed
Jerry Needam
SA, on Media to
State PDP Chairman
Monday, September 30, 2013