What Anambra State Will Miss More In Obi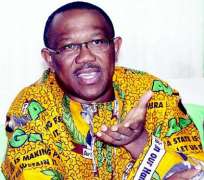 No matter for how long he will be denied credit by detractors Mr. Peter Obi brought certain kind of panache to governance. The peace and tranquility evident in the state today are as a result of his personality. Anambra is no more a theatre of the absurd where the baboon and monkey are in a show of might. Where god father intervention in her politics wasted years of achievable goals.
I once traveled to one of the countries in the West Coast. While seated in bonhomie with other friends one of my hosts struck a discussion on political development in Anambra state. Although he cannot be called Obi's supporter by any stretch of the imagination he nonetheless expressed his happiness that his tate has ceased to be in the news for the wrong reason.
He told us of how his colleagues from neigbouring states in the southeast Nigeria always taunted him about the fractious nature of politics in Anambra. How it will be difficult for Anambra state to experience genuine leadership because intractable political violence. How an average Anambra person is difficult to lead. That the state would need an application of force to govern.
He confessed his discomfort but was convinced that a day shall come when somebody who understands the politics of the state will emerge to lead them without applying force. He reminded us that he did not pray about it even for one day since he knows that day was nigh. All what the person needs according to him is to be sufficient unto himself and to be possessed of humility.
He was therefore grinning from ear to ear when regaled of the Governor's good works, especially in developing all sectors of the economy without strangulating the state with debt. Although he was not altogether without information on developments back home but appeared more interested in the peace in the state. He asked about the magic through which the Governor achieved the feat. How he was able to decapitate the monster of political opportunism in the state. How, for example, he was able to wriggle out of the way of uncouth political thugs who have kept the state down for as long as they did.
I appreciated his interest for i know that such a feat could not be achieved through any other means except by deft statecraft.He was eager to know. He asked if there was formal meeting by the governor with all the trouble makers where he pleaded or bribed then to give his administration a breather? To this i declined knowledge. Like him, all we know and which is also public knowledge to every in the state, that political violence has gradually receded in the last six years.
The peaceful nature of the governor he brought to bear on those who would rather die than see the state progress. The common principle of life which also finds expression in the Holy writ is that peacemakers shall be called sons of God. It goes without saying that all those who had lived from the political confusion in the state had to sheath their sword when a peacemaker mounted the throne. I gathered from those close to power that the man rarely moves in unnecessary convoy of cars. He prefers to travel light.
From the source i understood that if any of his convoy drivers, out of recklessness of power, hits a passerby that driver must stop pick up the victim to a hospital and defray the expenses. It does not end there he will also go on suspension before returning to his job. This, in addition to so many disciplined approach to government and governance, has ensured that Anambra is peaceful and progressing.
The fear in the minds of everybody in the disposition of his successor. Will he be able to maintain the status quo? Or will there be a relapse soon after? This is one of the major reasons why it is important that Ndi Anambra should cast their votes wisely. The state is sure to tip if material consideration becomes the deciding factor on November 16th. Hard work as well as discipline in the successor should be the watch word. The state cannot afford another kalu- kalu! Anambra ...adibago nma nye aka, through your vote, ka odi nma!
Orakwue Chikelue
Abagana
Disclaimer:

"The views/contents expressed in this article are the sole responsibility of

Orakwue Chikelue Abagana

and do not necessarily reflect those of The Nigerian Voice. The Nigerian Voice will not be responsible or liable for any inaccurate or incorrect statements contained in this article."