Jonathan is entitled to seek second term – Senator Arise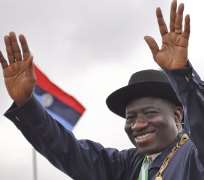 Former Senator, representing Ekiti North, Ayo Arise has described as needless and a distraction, the hues and cries over the second term ambition of President Goodluck Jonathan, saying; "By law, the president is entitled to seek a second term as president of Nigeria."
Senator Arise, in a release issued in Ado-Ekiti today said; "By virtue of section 137 (1) (b) of the 1999 constitution as amended, which  provides that a person elected to the office of president at any time for two previous elections shall not be qualified for subsequent election as president of Nigeria, President Jonathan is constitutionally qualified to seek second term in 2015 because he had only been elected as president once."
On the morality of the alleged promise made by the president not to seek re-election in 2015, Arise, who had earlier appeared on a Channels Television programme where he maintained the same stand said; "The beauty of democracy itself is that there is always two sides to a coin. If today I promise that I won't run for senate and tomorrow dynamics change and I decide that most of my promises I have not been able to achieve them, and constitutionally I am  still empowered to run, what is wrong in explaining that gentlemen, I have changed my mind and I still want to run for the second term that I am entitled to under the law?"
He said President Lyndon Johnson, who became the United States President after President John Kennedy was assassinated in 1963 was re-elected in 1964. He only declined to run for second term in 1969 on account of ill health not because he was constitutionally barred from doing so, and it is on record that he died in 1973, four years after he left office.
Senator Arise also said another United States President, Theodore Roosevelt, who became President when William McKinley was assassinated; was elected to full term. He did not seek re-election but he sought to be re-elected for another term four years after he left office.
"Therefore, anyone saying that President Jonathan does not have rights to seek re-election is not being sincere and I want to say it categorically that the decision as to whether or not he wants to seek re-election is for the president to make, not one that can be forced down his throat," he said.
While calling for restrain among politicians, Senator Arise said; "The reality is that whether the president runs or not, there will always be struggle for power.
"But the question we should be asking is that; those people in the opposition party that are moving around, do they have something better to offer Nigerians?
"All these noise here and there, are they about development of Nigeria and its people or about power, power and power?
"Politicians in Nigeria should therefore be guided by the laws of the land and desist from heating up the polity unnecessarily just because of quest for power.
"In Ekiti State for instance, there is a monster that is called 'see and buy.' The people in government now introduced it during the 2011 elections. Now it is the mentality that if you must win election in Ekiti, you must be loaded.
"Painfully, we are turning Nigeria into a country of politicians and that will not augur well for us as a nation, and we politicians should be mindful of how we pursue our ambition to grab power."