Kenya Mall Attack:Nigeria Deploys Soldiers at Shop-rite, Others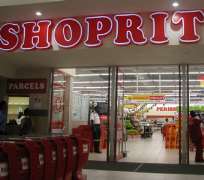 Nigerian Government has taken proactive measures to safeguard lives and properties of its citizenry  by deploying fierce looking Military operatives to Shop-rite Shopping Mall in Abuja , the Nation's capital.
Pointblanknews.com gathered that vehicular and human  traffic was unprecedented at the entrance of Shop-rite where soldiers were busy subjecting  shoppers to serious stop and search. Those who could not avail themselves for search were forced to leave the premises.
According a Senior security source in Abuja , the need to beef up security in all Malls and popular event centers in and around the nation's capital and other big cities in the country ' is to prevent the Boko Haram terrorist from launching  attack on innocent citizens just as it was recently done in Kenya'