Ailing BlackBerry agrees to $4.7bn buyout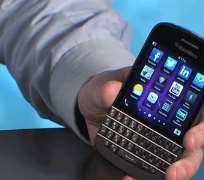 Struggling Canadian smartphone maker agrees to probable buyout by a consortium led by Fairfax Financial Holding.
Canadian tech giant, BlackBerry, has agreed to a probable $4.7bn buyout by a consortium planning to take the struggling smartphone maker private.
The Ontario-based company said on Monday it had signed a letter of intent with a group led by Fairfax Financial Holdings Limited, which has offered to acquire the company.
Under the proposed BlackBerry-Fairfax deal the consortium would offer $9 for each outstanding share, and Fairfax would contribute its own shares in the transaction.
BlackBerry said its board supports the plan.
BlackBerry was once a leader in mobile tech, but has been squeezed by rivals Samsung and Apple, which coincidentally announced record sales of its latest iPhone on Monday.
Fairfax, a Canadian firm headed by billionaire Prem Watsa, is already BlackBerry's largest shareholder with approximately 10 percent of its shares.
Watsa resigned from BlackBerry's board in August when it announced a search for a suitor.
Watsa said the sale "will open an exciting new private chapter for BlackBerry, its customers, carriers and employees'.
"We can deliver immediate value to shareholders while we continue the execution of a long-term strategy in a private company."
A firm deal, once due diligence is completed, is expected by November 4. It also hinges on the consortium obtaining financing.
BlackBerry said it would continue a search for a possibly better suitor in the interim.
BlackBerry stock was down six percent to $8.23 before trading was halted just prior to its announcement. Its shares bounced back in afternoon trading to close at $9.08 but remain far below the stock's historical high.
Ironically, the announcement came on the same day that Apple said it sold a record nine million iPhones in three days after launching two new versions of its smartphone last week.
Source: Al Jazeera