Bad Trader Little Income With Huge Loss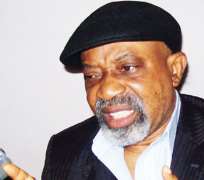 Anambra state little income with huge loss between 2003-2006 under then Gov Dr Chris Nwabuze Ngige OON (PDP) now .
Take ethnic, religion, party affilitation etc away, let us allow common sense, precedents, elementary economics and little politics to rule our decision come Nov 16 Governorship.
Between 2003- 2006 Anambra witnessed destruction of public properties worth Trillions of Naira in monetary and historic value as consequences of Ngige betrayers of his sponsors and his supporters in 2003 general election.
Aside political party affiliation some argued in favour of Ngige that he will as usual disappoint his money bag sponsors and supporters on winning Nov 16 election. Ngige known sponsors are the likes of Rauf Osun , Fashola Lagos , Okorocha Imo Buhari Kastina , Annie Okonkwo and ors for the good of the state.
Looking at the bigger picture or potential consequences of betrayer, the obvious big question ought to be at what cost ................?
APC as a political party is a marriage of three elements that are yet harmonize their positions and structure at both state and national level. Ngige victory under APC sponsorship at polls may cause more harm than good to Ndi Anambra.
First Anambra crises between 2003 -2006 was direct consequences of internal power struggle within the ruling PDP in the state that was poorly managed by Gov Ngige and his handlers. Ngige attempt to lord it over others less than one month he assumed office led to the crises.
Then President Obasanjo or Chief Uba did come to Awka or sited near Awka on the date this heinous were committed. The perpetrators were Ndi Anambra supporters of PDP on different camp both pro and anti Ngige. Anambra public properties were burn down to ashes. The same career politicians defected alongside with Ngige to ACN now APC.
Disclaimer:

"The views/contents expressed in this article are the sole responsibility of

Paul Achalla

and do not necessarily reflect those of The Nigerian Voice. The Nigerian Voice will not be responsible or liable for any inaccurate or incorrect statements contained in this article."