PHCCIMA Members To Enjoy Diamond Bank's Unsecured SME Loans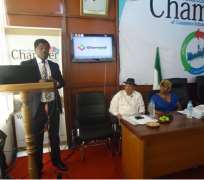 Diamond bank plc has entered into an understanding with the Port Harcourt Chamber of Commerce, Industry, Mines and Agriculture (PHCCIMA) to provide unsecured loans to SME's who are members of PHCCIMA.
PHCCIMA decided to turn to Diamond bank for this exercise because SME's account for over 80 percent of the total enterprises in the country.
The agreement between Diamond bank and PHCCIMA was sealed during the general monthly council meeting of PHCCIMA held in the council chambers. As a result of the deal, PHCIMMA president, Engr. Emeka Unachukwu,has urged members to be financially up to date in order to enjoy the loan facility meant for the members. He said there are exciting membership benefits that include getting rebate from hotels, flights, etc who are in partnership with PHCCIMA.
"It is important that we encourage the association by meeting up our obligation. We need your assistance, PHCCIMA membership guarantees you a lot of things, if you are not a member (financial member) do not go to our partnership hotels. We are getting rebate, this is one of the benefits of being a member," Unachukwu said.
"We want to ensure that you get value for your membership. We expect you to invest in the organisation as people are contributing whatever they can to move the organization forward."
The PHCIMMA boss in a chat with PHCCIMA media said, the understanding reached with Diamond bank is to push out some of the loan bottle necks that hinder SME's from accessing bank loans.
"Individual SME's can access a maximum of N3 million in loans from Diamond bank without collateral. So this is the thrust of the presentation of Diamond bank today and we hope that it will be the beginning of the new things to come for SME's," Unachukwu was quoted as saying.