PDP crisis: Reps in rowdy session over Baraje's visit…Pass vote of confidence on leadership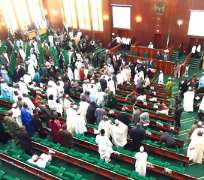 The planned visit of the splinter group of the Peoples Democratic Party, led by Alhaji Kawu Baraje, caused a rowdy session in the House of Representatives on Tuesday.
However the House passed a vote of confidence on the leadership of the House.
There had been speculations that the realignment of forces may lead to the sacking of the leadership, as it was expected that the NewPDP may team up with opposition.
The development, it was believed, was a fallout of the crisis rocking the PDP.
Lawmakers had been on annual recess since July 25 and only reconvened in Abuja on Tuesday for the commencement of the 2013-2014 legislative year.
The Tuesday's resumption, however, turned rowdy after the Speaker, Mr. Aminu Tambuwal, announced that the National Working Committee of the Baraje group had requested to pay a courtesy visit to the PDP caucus in the House.
The announcement immediately divided PDP members along the lines of the supporters of the 'new' and 'old' PDP.
Amid the altercations between the two factions of the PDP, some All Progressives Congress members noted that the issue was a distraction to the sitting of the House.
The APC members shouted at their PDP colleagues, calling their attention to the fact that the PDP was not the only party in the House and that it should limit its internal crisis to a PDP affair.
While members, loyal to the Baraje group, hailed the announcement, those in the old PDP under the leadership of the National Chairman, Alhaji Bamanga Tukur, opposed the planned visit