SKG PHARMA INTRODUCES LUMAL, ANTI-MALARIA DRUG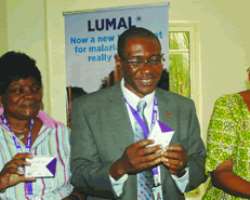 SKG Pharma introduces Lumal, anti-malaria drug
By NETA NWOSU
Wednesday, March 3, 2010
Mrs. Ololade Alabi, NAFDAC DG representative, Mr. Okey Akpa, Managing Director, SKG Pharma and Mrs. Abimbola Fashola, Lagos State First Lady at the launch of Lumal, a new anti-malaria drug by SKG Pharma in Lagos.
SKG Pharma Limited has launched a new brand of anti-malaria drug called Lumal into the Nigerian market. The product was unveiled at a ceremony in Lagos by Mrs. Abimbola Fashola, wife of Lagos State Governor.
The launch was also graced by the Director-General of National Food and Drug Administration and Contro (NAFDAC), who was represented by Mrs. Ololade Alabi, a senior official of the agency.
Lumal, according to SKG Pharma's Trade Brand Manager, Miss Rachael Ogo, is a fixed dose of two anti-malaria active agents Artemisinin derivative and Lumefantrine, which according to her provides rapid and effective treatment of multi-drug resistant malaria infection caused by plasmodium falciparum.
She said that Lumal is suitable for the treatment of acute and uncomplicated malaria infection in infants, children and adults, adding that the drug has some factors that stood it out from other brands.
Ogo listed some of the factors to include the encouragement of patients' compliance, affordability and availability and approval/endorsement by the World Health Organisation (WHO).
The DG of NAFDAC endorsed the drug for the treatment of malaria. He said that his endorsement was due to the positive result of the investigation and test that Lumal was subjected to by the agency, describing SKG Pharma Limited as a company that has a good record in the manufacturing of high quality pharmaceutical products.
Malaria has been an age-long disease in tropical Africa and has been described as the most common cause of out-patient visits to health practitioners in this region.
Countries in the region have been identified to bear the effect of malaria more than any other country and region in the world, accounting for more than 90 percent of the 300 million annual cases of malaria on the global scene.
Besides, statistics from the WHO also shows that about 2.7 million people die from malaria each year, most of whom are children. The case has over the time become very complicated with the spread of multi drug resistant plasmodium.
SKG Pharma commenced operations in Nigeria in 1962 as Wellcome and changed its name to SKG Pharma Limited in 1994. It produces very popular pharmaceutical products which are widely in use in Nigeria and in West Africa.