150 HOUSING UNITS FOR CIVIL SERVANTS IN DELTA STATE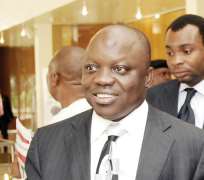 Elders of Ibusa Community in Oshimili South Local Government Area has commended Governor Emmanuel Uduaghan of Delta State, Nigeria for bringing Development to the community with the approval for the Construction of 150 Housing units for Civil Servants in the state
The elders led by Diokpa Macaulay Ashibogwu who made the commendation during a meeting with the Commissioner for Housing, Chief Paulinus Akpeki and a team of Ministry Officials at Ibusa prayed for the successful completion of the project.
According to Diokpa Ashibogwu "You have no problem, you can continue with your work. We are aware the Delta Development Authority (DDPA) took over the land. But we have been waiting and now God has brought The Governor and Chief Akpeki with wisdom to develop the land".
"What you are doing there will be for the benefit of everybody. We thank you for coming to our Community to develop the land, God will bless the Governor," he noted.
Second Republic Senator, Obi Nosike Ikpo said the Ibusa Community is very happy with the decision of the State Governor to site the housing estate for civil servants in the area.
The Commissioner for Housing, Chief Paulinus Akpeki thanked the elders and youths of the Ibusa Community for their peaceful disposition in accordance with the three point agenda of the Governor. From the first day the youths told me they wanted development but we should see their elders.
"With the spirited efforts of the elders and youths, those things that affected the peace of the area have been nipped in the bud.
The project is the building of 150 housing units made up of 50 units of one bedroom, 50 units of two bedrooms and 50 units of three bedrooms flat," he added.
The bulldozers have since opened up the forest with an imposing view overlooking the Asaba International Airport and the dualized
Asaba – Ughelli Road.

Meanwhile as work progress at the construction site of the Delta State Housing Estate for Civil Servants, the Commissioner for Housing, Chief Paulinus Akpeki has directed the site engineer to expedite work on the channelling of drainages and the carving out of roads.
The Commissioner who gave the directive during an inspection of the project site however expressed satisfaction with the quality of work done.
"Expedite action on the work to enable us move on to the next stage. I am impressed, but we have to move faster because by the end of this month the carving of the roads, drainages, water and electricity projects should have been completed," he noted.
The Site Engineer, LOC Metals and Minerals Limited, Mr. Peter Edeh who conducted the Commissioner round the carved out roads said the progress of earth work and the channelling of drainages has been slightly slowed down because of the rain.
"When it rains, the machines cannot move and when it does not rain we try to utilize that period and do what we can do immediately," he added.
According to him, "we are prepared to work to meet up the deadline by using every opportunity when there is no rain."