Battle For 2015 : Their Bickering ; Our Suffering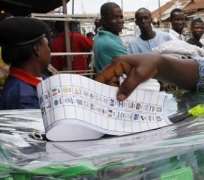 The opening of the Akanu Ibiam International Airport, Enugu was something that gladdened my heart. I was really impressed with it and had to go all out on the new media to commend the President and his team. It was late president Yar'adua who started the reconstruction of the Airport and President Jonathan made it see the light of the day. The importance (both Economical and otherwise) of that Airport to the South East and Nigeria cannot be overemphasized, add that to the fact that the Lagos airport will have a breather making it possible for it to be reconstructed-something the airport and has been screaming for.
That feat was a nice one from the president and his team , but unfortunately that's about it. That is even after a long period of under achieving. The thing is these guys know what to do, can do them, but just choose to ignore. I keep wondering why.
It is topic for another day if truly this is something worth celebrating as these are things they normally should be doing. It is the reason why we put them there in the first place. It is their job.
In this clime we have been hit hard with under development and bad leadership that we tend to celebrate when normal things are put in place.
Maybe it's because we have been so used to irregularities.
That said,It is so sad to notice however, that governance is dead as at today in Nigeria even before 2015.
It is 2013 and the president and his team have decided it's best to ignore what we put them there to do and pursue his survival for 2015.The same survival that we the people are supposed to determine when that time comes. It will be a silly thought by the president to think the people do not have a stake come 2015, because he is going to be in for a surprise.
The people, I believe, are ready to guard their votes with all they have in 2015. These are the same people the President has decided to abandon this early. The President has lost touch with the people. Governance has been in coma under his watch and now is almost dead, what with  the distractions he has created for himself lately.
Firstly it was the NGF roforofo , something he denied having a hand in, although now we know better and now this PDP and new PDP wahala. He as far as I am concerned brought this upon himself. These were clearly avoidable distractions. Did he have to want to impose a Chairman on the unnecessary and good for nothing Nigerian Governor's Forum? Did he have to allow the disqualification of those that are opposed to him from the National working committee of the PDP? This is a democracy for crying out loud, one which he is heads. People should be allowed to choose freely.
Unfortunately our president does not think so and now he is fighting for the soul of both his party and his own ambition .All these at the expense of the people. If that is what he intends to do in 2015, then he is in for a shocker.
It is the people that suffer while these gladiators at the top battle it out. Governance has taken the back seat.
I do not care if the PDP splits into 50, it has been of no use to us since 1999 after all. What worries me is the fact that our children have been out of school for a long while and with this distractions I am afraid there is no end in sight.
I am worried that the unemployment rate keeps soaring as more graduates get churned out into the streets and nothing is ttbeing done about it. The more the frustration the more they get drawn to crime to survive. It scares me because it is going to get worse, what with the people we put in charge abandoning their jobs for their selfish interest which is 2years away.
Electricity, the lack of it, has always been a problem. The president promised there was going to be significant improvement in that sector; in fact he even went on CNN to lie there has been a 'massive improvement'.
The fact is, it is getting worse and you know what, it's not going to get any better because the President has stopped work for this term ….in 2013.
The living condition in this clime is hell. The standard of living is at its lowest ebb and the president is busy with mudslinging. This has become a sing song, but one just has to keep drumming it in their ears.
Unfortunately the president does not see the big picture. I think he is letting a great opportunity pass him by. What stops him from getting busy with serving the masses (just like what was done in Enugu), thereby boosting his chances come 2015? He has the right to contest as a citizen, whatever anybody says.
The common Nigerian ordinarily does not care whatever struggle it is they are having up there. What matters to him is food on his table. He cares about getting the basic amenities of life-light, water, housing, good health care facilities as well as a good means of living and survival.
Instead of wasting all these time bickering, the president should just have gotten down to work and try to achieve even if it is three of the ordinary man's needs as mentioned above.
Does he not think serving the people properly will give him a good chance in 2015? He must still think we are in the era where the people and their votes do not count. Now, the fact is the people have realized that they truly own power and like I said before are ready to go all out to protect their votes. Unfortunately he has blown his chances by stopping work in 2013 to fight for his own selfish interest.
Me thinks he has lost on both sides; whatever ambition he has for 2015 as well as the trust of the people.
And as for the PDP, when people like Asari Dokubo decide to declare for the Party, then you know it is all over.
It's over to you, APC. The ball is in your court.
Chiechefulam Ikebuiro
[email protected]

Disclaimer:

"The views/contents expressed in this article are the sole responsibility of

pointblanknews.com

and do not necessarily reflect those of The Nigerian Voice. The Nigerian Voice will not be responsible or liable for any inaccurate or incorrect statements contained in this article."