Sack Imo SSG Now, Group Tells Okorocha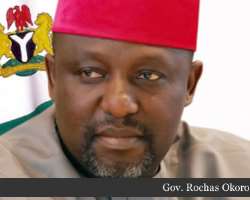 A group, Ngor Okpala Future leaders Forum has called on Gov. Rochas Okorocha to sack the Secretary to the Imo state Government, Prof. Anthony Anwuka over series of alleged misconducts.
In a statement signed by National Leader, Chikaodinaka Madu and Secretary, Ikedi Okereafor, the group said Prof. Anwuka has failed to measure up to public expectation and should be relieved of his position.
The further noted that the SSG's meddlesomeness in the Ezeship contest in several autonomous communities and series of petitions against him during his tenure as Vice Chancellor of the Imo state University, Owerri, renders him unfit to continue to hold on to his current position.
The group alleged that Prof. Anwuka made moves to impose his in-law, Justice Ambrose Egu (rtd) as the traditional ruler of Umuohiagu autonomous community contrary to the choice of the people who selected a journalist, Athan Agbakwuru as their Eze.
'Prof. Anwuka caused crisis in Umuohiagu community by insisting that his in-law becomes the traditional ruler of the community. The people has continued to insist that his in -law who is unpopular would be traditional ruler over their dead body, But Prof. Anwuka wont respect their wishes. He vowed to make the community suffer for rejecting his choice. The SSG's insistence to impose his in-law on the people runs contrary to Gov. Rochas Okorocha's avowed commitment to the rule of law,' the group said.
The group called on the governor to investigate the activities of his SSG in the Umuohiagu Ezeship dispute and other cases he is being accused of meddling into as well as the stalemate in the Oguta state constituency election which they alleged came as a result of the SSG's unpopularity and lack of control of his local council.
They insisted that Gov. Okorocha must act swiftly to sack Prof. Anwuka and restore public confidence in the administration as the SSG's actions has continued to portray the former as corrupt.