Roadmap to a better Nigeria; challenges & expectations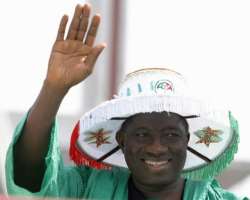 Nigerian politics has been one that's been known for ages, which ostensibly by various viewers is considered controversial, intriguing and somewhat conservative. A lot of Nigerians are almost getting used to the fact that Nigerian politics will never develop, and by extension, the citizenry will not enjoy the dividends of good governance.
Retrospectively in 1999, when democracy finally came to limelight in our politics, hopes were high; everyone expected the best governance; there was sudden quest for equality, openness, justice etc. The then president, Chief Olusegun Obasanjo, brought to the table a lot of changes that's never been experienced in the history of Nigeria. This didn't go down well with a lot of other unscrupulous and ill-wishing politicians. The choice of ministers was excellent—going by the likes of Ngozi Okonjo-Iweala (Ministry of Finance; Ministry of Foreign Affairs), Frank Nweke Jr. (Ministry of Information), Chief Femi Fani-Kayode (Ministry of Aviation; Ministry of Culture and Tourism), Mallam Nasir El-Rufai (Ministry of FCT) and many more.
At the end of President Olusegun Obasanjo's tenure—after the vehemently denied third-term bid—President Umaru Musa Yaradua was tipped to become Nigerian president. I, personally, as a Nigerian, thought he wasn't the right choice at that time (a lot of Nigerians shared this sentiment, so did some senior officials in President Obasanjo's cabinet). He (Umaru Musa Yaradua) was a governor, though may have achieved a lot in Katsina state by margin which can only be judged by the state of development in the northern part of the country, but that didn't make him an apt candidate to run for president and subsequently winning the elections. That was a mistake President Obasanjo made but we can't blame him totally; I'm sure Umaru Musa Yaradua impressed him at that time and had satisfied some of the requirements of who he wanted to succeed him. When he was finally selected and brought into the presidency, as President of the Federal Republic of Nigeria, President Yaradua surrounded himself by people who would ruin his government even if he ever meant well for the country. His choice of ministers was appalling and from then henceforth, his integrity has been under question and subject to a lot of objective scrutiny. The inclusion of James Ibori (former governor of Delta state) alone is enough to bring his regime down. In Yaradua's government, his Vice President is useless—he's no better than any minister in that cabinet; he was that idle.
As his government and tenure proceeded, he introduced a non-effective 7-point agenda. I thought at first there was anything realizable in the agenda but considering the crop of people in the Federal Executive Council, it was a long shot that's not worth given a consideration. As time went on, we all realized the agenda had failed from inception, and matter of fact, could never have succeeded. He lacked the tactics to rule Nigeria, and never demonstrated any zeal to lead this country to greatness. The international relations between Nigeria and some other countries completely deteriorated. I remember at one time that the support we received from United Kingdom was a one million pound offer to build a prison for Nigerians deported from United Kingdom for criminal activities. And, this is a sharp contrast to what we had during Chief Olusegun Obasanjo's regime. At another time, we started experiencing what it felt like to have a sick president. A president who, at many times when he's supposed to be tending to national matters, would jet off to Saudi Arabia for medical treatment which often lasted for weeks, the least being a few days close to a week. How could a man, this sick, lead a country with full concentration and focusing attention? At this time, the country had started to suffer but it was still latent.
During Chief Olusegun Obasanjo's regime as president, Mallam Nuhu Ribadu did wondrous things, stepped on toes (that required being crushed) to actualize the dream of a corruption-free society. The dream may not have been achieved totally but he was close to it—at least while Chief Olusegun Obasanjo's tenure lasted. Several arrests were made, several officers indicted, and so on. That gesture wasn't extended when Mrs. Farida Waziri was appointed as the EFCC chairman. So far we have seen several public officers getting away with looted funds, and nothing has been done about it. I still wonder till today why Mrs. Farida Waziri was attacked last year when she went to give a lecture in New York (She was smuggled through the backdoor into a waiting security car).
Suddenly and to everyone's dismay, Ribadu who had given a lot to bring sanity into the country was declared wanted for fraud by Yaradua's government. And it was a funny feat that when the former came into the country for Late Gani Fawehinmi's funeral, President Yar'Adua couldn't muster the courage to roar like a lion to accomplish his threat. The same can be said for Mallam Nasir El-Rufai who had also been declared wanted and to be arrested on sight. The mere fact that President Yar'Adua is sick disqualifies him running for president's office in other non-developed, developing and developed countries, but somehow—by a firm belief in his predecessor—he was anointed. When the pressure of governance hit on his health (I wish I could see the dividends of what brought the pressure), the trip to Saudi Arabia became incessant and unbridled. It was revealed that when the president traveled on these occasions, he never handed over the duties to the Vice President as required and stipulated by the constitution which he, the president, sworn to an oath to uphold.
The last straw that broke the camel's back was the last trip our dear president embarked on in November of last year. There was no official notification to the national assembly as stated in the constitution about his departure from the country. There was no handing over of duties to the Vice President. The nation was left not stagnant but retrogressive I might add. While he was still in Saudi Arabia, we had no idea why he was stuck over there or if he had decided not to return to the country or if he was abducted or if he was dead or if he was on a life support machine but what we do know is no one was allowed to have access to him. The president's wife, Hajia Turai Yar'Adua, barricaded all access to the president. If I could find the perfect word to describe her actions, it's "Criminality". There was no where the constitution of the Federal Republic of Nigeria made provision for the president of her country, ill or otherwise, not to be seen by senior officials of his cabinet. The citizenry is entitled to know the health status of their leader who, if I'm right, is receiving treatments by virtue of taxpayers' money. This can't be overruled. The First Lady went beyond her bounds to commit a heinous crime but it was overlooked. The lies kept piling from Saudi Arabia; the Federal Executive Council kept being fallacious and we were kept in the dark. Calls came from different quarters for the preservation of democracy and Yaradua's cabal and supporters kept stalling because they want to desperately hold on to power. All of a sudden, Turai Yaradua, wielded power that no First Lady in the history of this country had access to, and everyone looked on. The ignorantly greedy politicians obeyed her, followed her orders and gave her their utmost support. None of them had the interest of the nation at heart; every one of them was interested in securing a good report in the register of the sick president.
The vacuum at the Presidency needed to be filled and the dangerously worthless cabal didn't want to back down from threatening the serene democracy we were supposed to experience. The constitution was deliberately boycotted—there was no respect for it anymore. In December, when the 23-year old Nigerian boy, Umar Farouk Abdulmutallab, was arrested for attempting to blow a plane heading to Michigan, Nigeria was supposed to have a strong leader to act on behalf of Nigeria at the United States' turf and bar the United States from loading us up on their terrorist list which was worse enough after all we've been going through at these western countries' ports of entry; but our president was nowhere to be found, and our Vice President didn't have the authority to act. A characteristic Nigerian democracy.

The governors came up with different kinds of scheme to keep power waiting for President Yaradua on his return but only at the expense of making Vice President Jonathan Goodluck an acting president, but not with full capacity—even though they expressed his actions will be as that of the president. The Supreme Court gave an ultimatum and that was tried to be bypassed. Amidst all of these, a BBC interview purported to be President Yaradua's voice was released to the media, but we all know it was a hoax. Then that raised the question of who signed the budget that was taken to Saudi Arabia for authorization? The signature, I'm certain, must have been forged. Nigerian budget! First of all, it's against the constitution to sign the country's budget outside her shores but it was suggested in Yaradua's tenure, and subsequently carried out.

No offense to the northerners but the facts must be laid down. If Jonathan Goodluck had been a northerner, wouldn't Umar Musa Yaradua have handed over to him? What are they so afraid of? Why the arising skepticism? Because of personal, zonal and regional interests, the constitution had been knowingly broken which just confirms further that Umar Musa Yaradua is another ruler who's voraciously grasping at power far more than he can reach. That he was sick is no excuse that people around him are attempting to preserve for him because it's certain that they are following orders he had laid down for them. It's either he rules the country himself or by proxy. And his wife has been doing a wonderful job to ensure that her husband doesn't lose the seat. Little did we know that Nigerian affairs had unconsciously turned to a domestic, family affair.
After 93 days since leaving the country in November 23, 2009, the president was whisked into the country at midnight, 1.46 A.M. to be precise. Without the knowledge of the Vice President, but it was claimed that Speaker of The House of Representative, Honorable Dimeji Bankole, was privy to his arrival. However, the question still remains that, who dispatched the armed soldiers that went to secure the airport area for the arrival of the sick president? Days later it was claimed that the Chief of Army Staff proclaimed his support and obeisance for President Umaru Yaradua. Is a military coup coming on the way? The question of who sent them to the airport to receive the president, and without the order of the Acting President, is still unanswered. It was revealed by the media that since the arrival of the president, he has been caged in an ambulance equipped with some medial facilities. The Acting President wasn't allowed access to his "boss". The wife was taking a strong stance to ensure that no one had access to her husband.
Enough with the Yaradua rants. It is time for the Acting President to act accordingly. To do what is rightly needed to be done to steer this country to a glorious future. It's a shame what this country had turned to. We need a leader who's ready to give what it takes to ensure this country is taken to greatness. The very first thing for him to do is map out his strategies for the growth of this country. He has to put together his plans for the rest of this tenure. When all that had been actualized, he needs to find and look out for people who will fit into each of his plans. These are the ministers. This is where he's going to have to show to Nigerians, Africa, the whole world, that, he, Acting President Jonathan Goodluck is ready to use the power bestowed on him to bring fortune for Nigeria. He, as a matter of fact, has to fire all the ministers and recruit people who will carry on with his legacy of the kind of government he wants to bring up to the table.
A difficult task it is, I admit but it's going to ensure a lot of stability. The men and women Yaradua employed as ministers are fomenting trouble in the cabinet. No one respects the Acting President, and should that be because they had been asked by the First Lady not to do so? I choose not to go by that. I choose to go by the reason that they are disrespecting him because he has yet to exercise power. He has to sack all of them and retain none of them. When this is done, it will send a message to Yaradua's kitchen cabinet that the country's interest is bigger than their greed. It will tell them that he's ready to bring about change to the country's polity. It will send a message to Ibori, Aondoakaa, and so many more than their scheme to tell the northerners that the funds meant for the development of the north is being diverted to Niger-Delta, is a practical joke. I know President Yaradua didn't wish to be sick but his people are following principles that he had established. The judiciary, the PDP, the legislature, FEC, should allow him to make his choice of Vice President. That's how democracy should be run.
When he's ready to search the market for ministers, he should choose people who have integrity; people who have close relationships with well-meaning Nigerians; people who have contributed somewhat to the development of this country. We don't need Aondoakaas, Iboris, and Alieros. We need the Femi-Fani Kayodes; the Okonjo-Iwealas; the Obi-Ekwesilis, El-Rufais, Ribabus. We need people who can be recommended by Wole Soyinka, Femi Falana, Chief Olusegun Obasanjo, Rochas Okorocha, and a lot more Nigerians who are working for the common good of the country. Candidates who would have been recommended by Late Gani Fawehinmi if he had been alive—these are the kinds of people we need. We don't need hungry and greedy politicians. We need people who are vibrant, smart, hardworking, orientated, visionary, zealous to explore outside the box to exhibit good governance.
It's time for Jonathan Goodluck to sit up, buckle up and enjoy the ride. The ride won't be easy but he has to realize that in a quest for speedy change, there are bound to be altercations and he's got to be ready to deal with that. Since he has the support of Nigerians, he's got to worry about not disappointing their expectations and not about getting in his boss' way. The journey is almost over on the first part, and we're bracing up for the one ahead. The country means a lot to us, and we're not unconcerned about the health of a president who cared about the affairs of the country he claims to lead, however, we don't appreciate being led into the dark, kept and murdered in the dark. We're not about to be taken to the slab for slaughtering. The destiny of our nation lies in our hands and we'll stand against injustice and corruption. We'll stand against manipulation and violation of the rule of law. We'll stand against the disrespect to our right. We'll not stop raising our voices against the cabal that wants to hold our heads to ransom.
Jonathan, the hope of Nigerians lies with you. You can only seek advice from well-meaning people who will guide you through the process. Your boss was a governor like yourself, and that doesn't make him more experienced than you are. It's a rough road ahead and we'll stand behind you as you sail us through to greatness, we hope. The good Lord will be with you. Long live Federal Republic of Nigeria.
Jeffrey R. Henry (is a social commentator)
Osogbo, Osun State (Nigeria).
[email protected]

Disclaimer:

"The views/contents expressed in this article are the sole responsibility of the author(s) and do not necessarily reflect those of The Nigerian Voice. The Nigerian Voice will not be responsible or liable for any inaccurate or incorrect statements contained in this article."