GOTEL inaugurates new management, reconstitutes board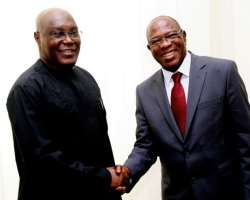 GOTEL TV/Radio founded by former Vice President Atiku Abubakar has inaugurated a new management team with veteran journalist and broadcaster, Mr. John Chiahemen as Managing Director/Chief Executive Officer.
Also the board of the Yola-based media conglomerate was reconstituted under the Chairmanship of Mallam Ahmed Aminu.
Atiku Abubakar charged the new management to fast track the realisation of GOTEL TV's vision of becoming the preferred  voice in disseminating the Nigerian and African perspective.
Aside Chiahemen, others in management team are Gary Alfonso (Chief Operating Officer), Anton De Wit (Director of Engineering Services/IT), Garvin Hill (Director Television Services), A. A. Tafida (Executive Director, Administration and Human Resources) and Mohammed El-Yakub (Director, Radio Services).
The reconstituted board of the company is comprises of Ahmed Aminu (Chairman), Chiahemen (MD/CEO), Tafida, Mazi Paul Ibe, Mr. Yakubu Tsala and Prof. Margee Ensign (President, American University of Nigeria).
Other members are Mr. Abba Tahir, Mr. Siddiki Jauro, Engr. Joshua Hassan and Abdullahi Nyako and E. O. Ojo as Company Secretaries.