Fashola refutes successor shortlist claim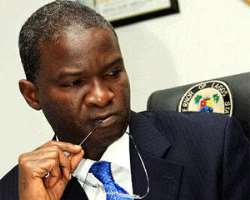 The Lagos state Governor, Babatunde Fashola,  has denied compiling a shortlist of five individuals likely to succeed him when his tenure comes to an end.
He accused the writers of the story of irresponsible journalism.
The governor, who spoke to journalists when he attended the First Lagos International Table Tennis Classics at the Molade Okoya Thomas Indoor Sports Hall of the Teslim Balogun Stadium, Surulere described the report which made the front page of a newspaper saturday, as ridiculous, while debunking the claim, saying he has neither compiled a 'short' nor 'long list'.
'The first thing to say is that I did not compile any list whether a shortlist or a long list and I think the Saturday Sun newspaper has acted perhaps irresponsibly and I think they had an opportunity if indeed it is true they ever got such a story to have clarified with us. But to have gone on in detail to say that I have compiled a list, I would like them to present that list to members of the public'.
Noting that he was already considering seeking legal redress on the blatant falsehood published by the newspaper on a list of potential governorship candidates said to have been compiled by him, Governor Fashola said it amounted to a deception of the reading public to have published such a fabricated story.
'As I said I deny such a list vehemently and I am already talking to my lawyers and it is very sad that they do not show respect to the Nigerian populace. People work very hard to earn money and the least that they deserve is that if they buy newspapers, what they expect to read in the newspapers should be true not stories fabricated and planted and put on the front page as if it was factual', he explained.
The governor reiterated that such acts, if not for anything, is the height of corruption and could be likened to obtaining people's money by false pretence which is undeserving of any newspaper.