Boko Haram Kills 24 Youth in Fresh Borno Attacks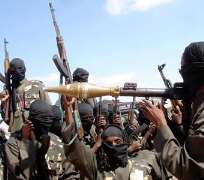 At least 24 youth aka "Civilian JTF" were yesterday  killed  by suspected Boko Haram Attak  terrorist in fresh attack  while  36 others were also declared missing when the youth invaded  a  Boko Haram Camp in Mongno Local Government Area of Borno State.
Sources disclose  that  the vigilante youths numbering over 100 were on a mission to capture some Boko Haram  terrorists in their camps around Kaleri, Shuwari, Maganari and Nannari villages before they were ambushed by the terrorists which led to the death of 24 vigilante youths, while about 36 were still missing.
' As a matter of fact, there was an initial arrangement with military troops that they will accompany the vigilante youths to the said Boko Haram camps in Monguno, and when the youths waited to see the arrival of military for some hours without response, they summon courage  to visit the area with a view to arrest the suspects, but unknown to them that the armed Boko Haram sects were disguised in Military Uniform with three captured patrol vehicles of the security agencies which lured the vigilante youths to conclude that it was the military troops that went to the camp ahead of them.
' The terrorists opened fire and killed about 15 of the Civilian JTF, while the other nine who were spiritually charmed against gunshots were killed by using their vehicles in crushing them. But as I am talking to you now, about 36 of the volunteered youths were still missing, while we received an unconfirmed report that five of the vigilante youths who escaped the attack with broken legs and hands injuries were rescued by some good Samaritans and are in one of the villages close to the camps which they are receiving treatment by the villagers'. The source disclosed.
A  government official confirmed  the incident and  said,  'already Alhaji Mohammed Nur Monguno, the Caretaker Chairman of Monguno has rushed to Maiduguri to brief relevant government and security authorities'