What I Hate About Men – Mariam Elisha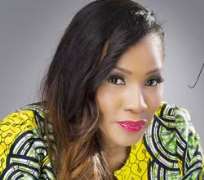 Unlike other beauty queens who immediately disappear from the social scene after their reigns, former Miss Valentine, Mariam Elisha has remained in the limelight. she talks about her love life.
Excerpts:
Who's the man in your life?
I think my relationship is personal to me. I will marry at the right time. I pray it happens soon.
What kind of man would you love to marry?
I want to marry a God fearing man because I always dream of making heaven. I don't care whether he's tall , handsome or rich. As long as he has the fear of God in him, and has respect for womanhood, I will marry the person. He must take me for who I am. I'm okay with him.
How many times have you been heartbroken?
Once. I don't want to talk about it please.
>

What do you hate about men?
I hate disappointments and lies. Disappointment, not in the context of when one promises to marry a lady and later on, he didn't keep to that promise. I mean, when I trust you as a friend and I expect you to keep to that trust and never hurt my feelings.
How do you describe yourself?
I am simply amazing!
You recently contested the Miss Nigeria pageant, what informed that decision?
I have always loved the name-Miss Nigeria and I feel that being Miss Nigeria will provide me the needful platform to affect more lives positively. As you know, I'm into charity and I do a lot of things to assist the poor. At the moment, I have not less than 40 children under my care. It is really pretty difficult coping with these children. I feel I need more helping hands and being Miss Nigeria will probably give me more support to smiles to the lives of these children.
Your dress sense?
It depends on the occasion. Sometimes, I like to look simple, but very dramatic. I am always very simple. When I'm not in the red-carpet mood, I love casual wears.
Culled from Vanguard
>

Click the link below to go to...
Caroline Ekanem Possess With Hubby
I can't Marry An Actor-Tonto Dikeh Declares
Is Eedris Abdulkareem dissing Donjazzy?
When They Do The UK Proud They are British Citizens, When They Don't They are British Citizens of Nigerian Descent
Laide Bakare Returns After Birth Of Controversial Child For New Hubby