1,429 Died In Syria Chemical Attack, says Kerry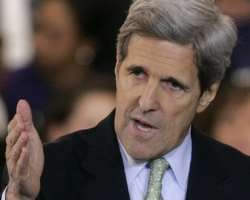 US Secretary of State John Kerry has said Syrian government forces killed 1,429 people in a chemical weapons attack near Damascus last week.
Mr Kerry said the dead included 426 children, and described the attack as an "inconceivable horror".
He did not mention military strikes, and said the government would consult Congress leaders over the next step.
The government of President Bashar al-Assad has denied carrying out the attack and blames rebel forces.
UN chemical weapons inspectors are investigating evidence for the chemical attacks and will present their evidence to the UN after they leave Damascus on Saturday.
But Mr Kerry said the US now had the facts, which the government has published in a four-page assessment.
He said the evidence showed 1,429 people had been killed. and that regime forces had prepared for the attack three days earlier.
"We know rockets came only from regime-controlled areas and landed only in opposition-held areas," he said.
"All of these things we know, the American intelligence community has high confidence."
The US is pushing for intervention to stop the Syrian government from using chemical weapons.
But the UN Security Council is unlikely to approve any military intervention because permanent member Russia is a close ally of the Syrian government, and has vetoed two previous draft resolutions.
The US was also dealt a blow on Thursday when the UK parliament rejected a motion supporting the principle of military intervention.
The vote rules the UK out of any potential alliance.
However, US officials said they would continue to push for a coalition, and France said it would support the US.
Source: BBC