Gov. Obi And His Awka Developmental Battles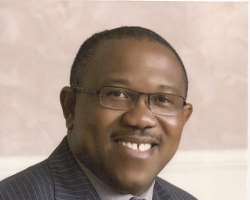 Governor Peter Obi of Anambra State
I remember few years ago when Awka people, particularly the ones in Diaspora were spitting out fire, thunder and brimstone on Governor Peter Obi of Anambra State for allegedly neglecting their kingdom. They accused him of taking developmental issues that concerned Awka town unserious.
I'm quite aware that some groups threatened to 'shut down' the government house if the helmsman refuses to repent of his 'sins' and fix Awka to exude the light of capital territory which it is called. I occasionally stumbled on newspaper publications where they were blowing hot; stressing why the area should be like Enugu or Owerre if not better.
Of course, no right thinking person should cast aspersions on the people who are not only fighting for their own democracy dividend but a place where Anambrarians can truly call their state's capital.
During that period, some people like me who come from the age-long marginalized people of Awka-North opened wide our voices in plea to the government with a hope that we would be remembered equally. We girded up our loins in all facets. I remember communities of Amanuke, Urum, Ugbene, Ugbenu, Isuaniocha, and others, all in Awka-North cried out blood, and perhaps, still crying to be 'consoled'. At least, if not for any other thing, we share certain things in common, and during the Nigeria–Biafra civil war, some Awka people took solace in Amanuke and others.
While all these were going on, some respected Awka sons and daughters were calm but not quiet! They watched the drama unfold, scene after scene; perhaps, to see what the climax would look like. In a society where there are weak people, Igbo adage supports the need to have strong ones so there would be enough characters to suit different occasions.
Fortunately, Awka kingdom is favoured with illustrious sons and daughters who hold key positions in the government; two of who are Sen. Ben Obi, the Special Adviser to the President on Inter-Party Affairs; Hon. Emeka Nwogbo, representing Awka North and South at the House of Representatives and others. In every state, there are always people drawing the attention of the government to their locality; and Anambra is no exception.
Mr Peter Obi from day one signed 177 pacts with different towns in Anambra state and every community wants to be favoured more. He is not a spirit and your 'hook can catch him when you fix his favourite bait'! And that perhaps is what Emeka Nwogbo and other illustrious sons of Awka kingdom have mastered. The duo belong to same political party and as such understand themselves.
The face of Awka capital territory has changed very significantly today. One with prior knowledge of the area who visits it now will know for sure that angels have began treading on their soil. Mr. Obi is angry. May be the fire and brimstone they rained on him have hit his eyes, and he is now taking revenge on the roads and other developmental areas. He has ransacked all the nooks and crannies of Awka, creating roads. Apart from Onitsha, Awka can today boast of the best network of roads in the state unlike before. All the gutters of the existing roads have been fixed. The Authur Eze avenue which gained notoriety because of the ravaging effect of flooding has lost its potency. Lives over the years, were lost to flooding there, while few rescued.
Gov. Obi did not stop at that. He has clamped down on the schools in the area. There is no public school in Awka which does not boast of receiving government's attention. Particularly, Capital City Secondary School, Awka which gained notoriety for housing some bad eggs due to its prior dilapidated nature, is today a unique citadel of learning through the instrumentality of the government and Emeka Nwogbo who descended on the school like thunder and lightening!
Even though it is a responsibility of every government to her people, at least for the social contract, this Obi-led government deserves commendation, even as I remind him about Awka-North.
GOVERNOR PETER OBI OF ANAMBRA STATE
Disclaimer:

"The views/contents expressed in this article are the sole responsibility of the author(s) and do not necessarily reflect those of The Nigerian Voice. The Nigerian Voice will not be responsible or liable for any inaccurate or incorrect statements contained in this article."