PDP Screening Postponement, No Intrigue Says Ndoma-Egba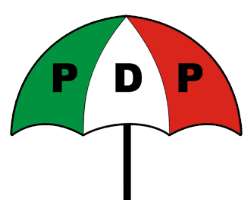 Senate Leader, Senator Victor Ndoma-Egba has said that the postponement of the screening of over 80 aspirants seeking to occupy the 18 vacant positions in the National Working Committee (NWC) of the Peoples Democratic Party (PDP) was not due to any intrigue.
Ndoma-Egba, who is the chairman of the screening committee for the PDP mini-convention holding on Saturday, August 31, 2013, made the declaration in an interview in Abuja. He was reacting to media reports that the postponement may have been as a result of attempts to deliberately scheme out some of the aspirants from participating in the contest at the convention.
The Senator, a Senior Advocate of Nigeria (SAN), reiterated that the decision to shift the exercise from Wednesday 28th to Friday 30th of August was borne out of the request by the aspirants from the different zones for them to be given more time to take a stand.
"Honestly, the postponement was not in any way due to any intrigue or ploy to shut out anybody out of the race. When we placed the notice for the screening on Monday the 26th of August, we received calls from most of the aspirants complaining about the short notice and asking for an extension.
They said they needed more time to enable them take a position on coming up with consensus candidates. And since the party had already given them up till Thursday to come up with their positions, we decided at the screening committee level to postpone the exercise to Friday," Ndoma-Egba explained.
The PDP chieftain added: "We have to yield to their request because we want to ensure transparency in the exercise where nobody would have any cause to complain at the end of the day. Like I said before, there is no any hidden agenda in the postponement. We are all working together to see that we have a very peaceful convention that will be devoid of rancour and acrimony. We don't have plans to scheme anybody out. The guidelines for the screening will be strictly followed. Even if all of them scale through the screening, the delegates know who they will vote for."