GM RECALLS 1.3M CARS OVER POWER STEERING FAULT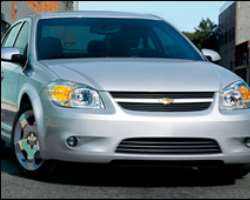 General Motors (GM) is recalling 1.3 million small cars in North America because of a power steering problem that has been linked to 14 crashes.
The firm said four models were affected – the Chevrolet Cobalt, Pontiac G5, Pontiac Pursuit and Pontiac 4.
It said the fault meant that at low speeds "greater steering effort may be required", but that the cars could still be "safely controlled".
GM blamed the fault on a supplier partially owned by Toyota.
GM vice-chairman Bob Lutz told the BBC at the Geneva Motor show: "This is a case where, yes, we would blame a partially Toyota-owned supplier."

Recalling these vehicles is the right thing to do for our customers' peace of mind
Jamie Hresko, GM vice president of quality
Mr Lutz said the supplier had not met "all requirements for reliability and durability".
"So we will have to see who takes financial responsibility," he said. "But this is a risk you sometimes take when you buy a complete system from a supplier."
Complaints
GM said it had told the US car safety regulator – the US National Highway Traffic Safety Administration (NHTSA) – about the recall on Monday when it finished an investigation that started last year.
The NHTSA itself had been investigating the problem since 27 January after receiving more than 1,100 complaints, including 14 crashes and one injury.
The recall covers the 2005 to 2010 model year Chevrolet Cobalt, and 2007 to 2010 Pontiac G5 sold in the US.
In addition, it includes the 2005 to 2006 Pontiac Pursuit sold in Canada, and the 2005 to 2006 Pontiac G4 sold in Mexico.
"After our in-depth investigation, we found that this is a condition that takes time to develop," said GM vice president of quality, Jamie Hresko.
"It tends to occur in older models out of warranty. Recalling these vehicles is the right thing to do for our customers' peace of mind."
Toyota recalls
The GM recall comes as Toyota is continuing to call back more than eight million cars around the world following accelerator and braking problems.
The Japanese carmaker also said on Tuesday that it is repairing another 1.6 million vehicles in the US and Japan over leaky oil hoses.
The Toyota recalls are still being investigated by US politicians, and three US Toyota bosses are due to appear later before the Senate Committee on Commerce, Science and Transportation.
US Transportation Secretary Ray LaHood has also been called to attend the hearing, as the committee continues to investigate the speed of the recalls and the response of the authorities.
Toyota president Akio Toyoda appeared before a separate congressional committee last week – the House Oversight Committee – to apologise and promise that lessons would be learned.