Health workers call off strike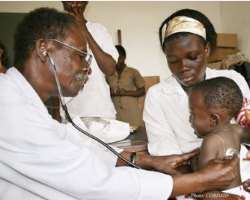 HEALTH Workers under the umbrella of Joint Health Sector Union, JOHESU, yesterday called off the industrial action they embarked upon six days ago.JOHESU suspended the strike late Tuesday night after a meeting which lasted more than 12 hours conveyed by the Minster of labour and productivity, Chief Emake Wogu.
However, the union said that the suspension of the strike was to give the government a two-week window to implement a new agreement by the duo.
JOHESU like the Academic Staff Union of Universities ASUU which is currently on strike had downed tools due to what they described as the ministry of health's refusal to implement an agreement reached between government and health workers in 2009.
The union was demanding among others, the non-skipping of Salary Consolidated Health Salary Structure CONHESS 10, implementation of National Health Bill, Consultancy and Specialist Allowances and Call/Shift Duty and other professional allowances.
It was gathered that at the time of calling off the strike yesterday, non of the agreements was met, but the union said the action it took was to give government another two weeks to implement a new agreement it has reached. – See more at: http://www.vanguardngr.com/2013/08/health-workers-call-off-strike/#sthash.9i9LfjN7.dpuf