Pictures From Collette Orji's Birthday Bash, Coco Medicare Launch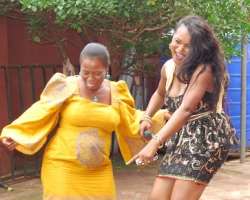 On August 10, 2013, Nollywood actress, Collette Orji feted some mothers, widows and others to a posh birthday party, which was also used to launch her NGO called Coco Medicare Foundation.
No doubt, the day will for a long time remain in the memories of many female folks in Enugu State that thronged the event as Collette spoilt them with a lots of gifts, drinks and food such that they even went home with some. The women were all smiles as their darling actress marked her birthday in style.
The light-skinned beautiful make-believe star took time to celebrate her birthday with some widows, mothers and young ladies numbering over 500, who were at the party.
Collette's Coco Medicare Foundation is aimed at sponsoring medical treatments of the female folks in India. The women marched briefly for about five minutes along the streets before returning to catch some breath. Doctors were also on ground to tutor the women on the importance of health with the message that 'health is wealth, but information is life.'
They were also lectured on breast cancer, arthritis and eating right. They were all tested and interacted with, and they had the opportunity to ask doctors at the occasion some questions, which were well answered.
Collette personally distributed some of her movies, numbering about 600, to the women, who showed appreciation for her kind gesture.