Bayelsa: A Gift to Nigeria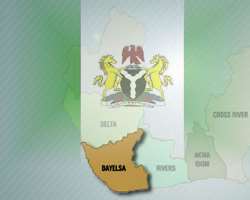 By Daniel Iworiso-Markson
I am certain that the title of this piece will 'unsettle' some people. They know themselves and I don't intend to get in their way! And by way of assuring them, this piece has nothing to do with 2015. Trust me.
I also do know for a fact that quite a huge number of our people will take keen interest in the title of this piece and many of them are people like us - the silent majority who by means of geography and ethnicity are regarded as Nigeria's minority tribes.
Even in the comity of minority groupings in Nigeria, Bayelsa can be considered as the least of them all! Whereas we are the only homogenous Ijaw state - the home base of all Ijaw people and the epicenter of Ijaw civilization and culture, yet we are the least in terms of land mass and population! The entire state only measures up to 21,110 km2 (8,150 sq mi). That is the total area measurement, which includes land, vegetation, creeks, rivers and ocean. The population, going by the last census, is put at 1,998,349. So give or take, with increase in population since the last census in 2005, our population as at today should be slightly above two million.  Of course, it is important to note that the state was formed in 1996 out of the old Rivers State and is thus one of the newest states of the Nigerian federation.
Interestingly, this is the state where crude oil was first discovered in Nigeria in commercial quantity. In fact it is on record that Bayelsa has one of the largest crude oil and natural gas deposits in the whole country. Aside from its natural endowments, Bayelsa also enjoys the rare privilege of producing the first President to emerge from a minority ethnic group - the very first minority President from the least of all the minority ethnic groups. Can you beat that? God is sure awesome!It is indeed amazing!
So amazing to the extent that the discovery of oil in Oloibiri in 1956, according to Wikipedia, ended almost 50 years of unsuccessful oil exploration in the country by various companies. Indeed, the discovery launched Nigeria into global reckoning as a major oil-producing nation, considering the fact that over 5,000 barrels were pumped per day from the swampy oilfield of OML 29, measuring about 13.75 square kilometres.
No doubt, the enormous wealth that came from the discovery of oil, ultimately accounted for the substantial investment in infrastructure by the then federal government in building cities like Lagos and Abuja. It is, however, sad to note that the developments were done at the expense of the land from whose womb the wealth was gotten or perhaps, ill-gotten. The oil wells in Oloibiri have since dried up. The land and its inhabitants lie desolate. The community is a shadow of itself, stripped of all its virtues and today it has become a clear metaphor. What a shame!
In shame we have forged on as a people, carrying with us the deep scars of injustice, neglect and deprivation even as we take solace in the divine intervention that miraculously brought about the emergence of a President from among us.
We also take solace in the contributions of our heroes to the Nigerian state, sons of the soil, whose giant strides have brought great honour and pride to our nation at different times and space. Today we pay glowing tributes to men like Prof. Lawrence B. Ekpebu, born 2nd of May 1936 in Okoloba, a once picturesque village in present day Bayelsa, now ravaged by the harsh consequence of exploitation of oil in the Niger Delta. From a destitute background where there was hardly opportunity to graduate from primary school, he went on to become the first African to bag a Havard degree, graduating with Honours in Government with specialization in International Law and Relations. He won one of Havard's most coveted prizes for graduating seniors, the Francis H. Burr (1909) Prize Scholarship and broke an all- time record as the only black person to ever achieve this feat in the history of Havard till date. Indeed, his achievement convinced America of the brilliance of Black People, prompting the institution to grant scholarships to not just Nigerians but across Africa and even the Caribbeans. As a result, the scheme produced additional 200 professors from Nigeria alone and several others across the African continent. Among whom are Prof. Bolaji Akinyemi, Kalu Idika Kalu and His Excellency, President Quattara of Cote Ivoire. Prof. Ekpebu went on to bag Masters from Princeton University and later PhD from Havard.
There is also Ernest Sissei Ikoli of blessed memory(1893-1960), a nationalist and pioneering journalist, who is a native of Sangana, Akassa, in Brass Local Government Area of present day Bayelsa State. Ernest Ikoli was very prominent in pre-Independence Nigerian politics and remains the first man from present day Bayelsa State to have made as much significant foray into national politics. But, as a journalist, he was the first editor of the famous Daily Times newspaper in Lagos in its formative era in 1926 and as a politician, he was the President of the Nigerian Youth Movement. In 1942, Ikoli even represented Lagos in the Legislative Council. Another significant first by all standards in the history of Nigerian politics!
Many will remember Melford Obiene Okilo, ( November 30, 1933 - July 5, 2008), a proud Ijaw politician of Ogbia extraction from Emakalakala in Bayelsa State. He had a long and distinguished career as a politician from pre-Independence Nigeria, but his career as a politician gained tremendous prominence in post- independence times until his untimely demise in 2008. He was a member of parliament from 1956 to 1964 and a Minister in the Nigerian First Republic. He was Governor of old Rivers State between 1979 and 1983 during the Second Republic and a Senator representing Bayelsa East between 1999 and 2003.
Only recently, the nation had cause to mourn the painful demise of General Andrew Owoye Azazi, who died in an ill-fated helicopter crash last year. He had a distinguished military career and was arguably one of the finest in the history of the Nigerian Military, who rose to the pinnacle of the force. A Chief of Army Staff and later Chief of Defence Staff, Azazi, a native of Peretorugbene in Ekeremor LGA, Bayelsa State, had for some time had one of the fastest growing military careers in the history of present day democratic Nigeria, between May, 2006 and June, 2007. The General had worn the ranks of Major General, Lieutenant General and General. General Azazi, who had retired on the 20th of August, 2008, was appointed National Security Adviser by President Goodluck Jonathan on the 4th of October 2010 and died on the 15th of December, 2012.
We also remember with fondness the great Major Isaac Jasper Adaka Boro(September 10, 1938 - May 9, 1968), better known as "Boro", was a celebrated Niger Delta nationalist and Nigerian Civil War hero. He was one of the pioneers of minority rights activism in Nigeria and perhaps the very first to take up arms against the Nigerian State to agitate for the rights of the oil producing minorities of South- South. His legacies remain true to us even to this day.
There are others, too numerous to profile in just one newspaper article, with such limited space. You might wonder, what am I really aiming at by reeling out the profiles of these proud Ijaw sons of Bayelsa extraction? Truth is, am drawing our attention to the fact that we have as a people over the years, in spite of the negative classification and distorted perceptive lenses most people in the larger ethnic conclave tend to look at us today, have done more perhaps more than most people will readily want to admit, to project the ideals of a united and egalitarian Nigeria. Undeniably, Bayelsa State is a blessing to the nation.
It is in keeping with these ideals and to further push the frontiers of our collective interest as a nation, irrespective of the fault lines upon which our so- called unity in diversity was etched, that another great Bayelsan, a leader in his own right, whose record of public service started way back before his emergence as Governor of Bayelsa State, chose to serve as Chairman of the PDP National Reconciliation Committee.
Those who criticized his appointment did so out of pure mischief and am glad it did not take long before they realized that the man they presumed was inexperienced and 'infantile' to chair the reconciliation committee was the brain behind the negotiation that ensured the suit stopping the party's convention slated for August 31st was withdrawn. It also didn't take long to prove to the skeptics and cynics that Governor Henry Seriake Dickson's persuasive and consensus building skills, not just as politician, but as a brilliant lawyer with many years of outstanding records of achievements at the bar fighting and winning the toughest and fiercest of legal battles both as a private legal counsel and as Attorney General of Bayelsa State, ensured that peace was restored to the feuding parties in PDP Ekiti and Anambra States.
What is pertinent to note here is that nobody (and I wish to stress this fact very clearly and categorically) should be looked down upon, irrespective of where they come from, the status or class that they belong to, or be unduly derided on whatever basis when called upon to render service to one's country. Moreso, at such a time like this in our history when our nation's unity is under severe threat. We must be able to draw a clear line between rendering service and playing politics.
We should all take pride to work for the unity and development of our country and by so doing stand together to resist those who are exploiting our diversity to harp on those things that easily pull us apart. We must emulate the personalities whose remarkable profiles I earlier sketched, who at different times rose beyond pettiness as gallant patriots and gave their all to render service to the nation by embracing and envisioning an all-inclusive approach to achieve national cohesion and unity.
Even as politicians, these essential ideals of leadership and patriotism must remain our abiding values. Governor Dickson alluded to this during his acceptance speech following his inauguration as chairman of the reconciliation committee when he remarked that   'as democrats, we must evolve ways of appreciating our differences and resolving crises within the party without stifling people', stressing that: 'We must play the game within the ambit of national interest and not denigrate or destroy our institutions whether it is the office of the President, judiciary, legislature, military and security services, professional bodies, media, traditional and religious institutions'. These are food for thought as our dear nation grapples with the challenges of democratization and evolving a federation where our unity in diversity rings true.
Daniel Iworiso-Markson, Chief Press Secretary to Bayelsa State Governor, sent in this piece from Yenagoa.
Disclaimer:

"The views/contents expressed in this article are the sole responsibility of the author(s) and do not necessarily reflect those of The Nigerian Voice. The Nigerian Voice will not be responsible or liable for any inaccurate or incorrect statements contained in this article."