Bisola: Our Hair Products Are Uncommon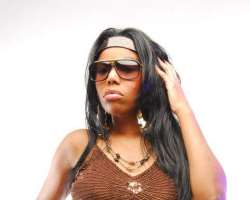 Being in the fashion world was not just a coincident for gorgeously looking hair specialist, Bisola. A model-turned hair specialist, Bisola's passion for lovely hair had opened for her a top of the range hair line. With her Bisola Real Hair line doing incredibly well in the market, the one-time model speaks on her life, career and what makes her hairline distinct with BOLATITO (@iambolatito) ADEBOLA.

What brings you back to Nigeria again so soon?
I launched my new signature celebrity two tone silk top glueless full lace wigs & hair weaves for my special Diva Barbie's customers in Lagos and Abuja. So, to answer your questions, that has brought me back to Nigeria back.
Tell us about your products?
My glueless full lace wigs & hair weaves are amazing, fantastic, very modern, and trendy! If a lady wants great high quality virgin hair and she is lacking self-esteem and confidence, Bisola's Real Hair will make that confidence bounce right back with a lot of sexy classy attitude! In all, our hair products are convincible and uncommon.
How long have you been in the hair business?
Honestly, seven years now with a great passion I have for hair. Though I love custom making the very best virgin hair silk top, No glue full lace wigs for ladies who want to stand out from the crowd and steal the show. My Mongolian, Malaysian, Cambodian, Peruvian, Filipino, Brazilian Virgin hair are of the highest grade quality with bounce, movement, superb volume and body, every lady should be wearing it, especially if ladies want to be centre of attention.
What inspired your decision to go into the hair business?
What inspired me to get into the hair business…That would be when I started wearing my glueless full lace wigs or the weft and ladies used to stop me on the street, weddings, functions, bars, events and it was like "wow girl I love your hair, please give me that contact where you got your hair done" I would just tell them, no one did my hair, I did it myself. I always get stopped by ladies who want to buy my hair, so I thought to myself I need to set up an online lace wig & weave hair company. So I took a hair medical course in New York, studied Hair Loss, Cancer, Chemotherapy, Alopecia hair consultancy care and now, I'm a hair specialist consultant.
Many of your hair products are already in the Nigerian market, what makes yours different from others?
Oh for sure there are a lot of hair sellers in Nigeria, however, a lot of the hair being sold in Nigeria are fake, or of very, very low grade and bad quality hair which tangles, sheds and knots. What makes Bisola's Real Hair stand out from the rest is we sell luxurious, authentic, premium, real virgin human hair from human donors. All our hairs are un-processed, meaning No chemicals, No synthetic fibers, No animal hairs, No colouring, just pure everlasting re-useable virgin hair.
Despite being an international brand; Why come to Nigeria?
I love Nigeria. My hair customers dolls are just so wonderful and charming and Nigerian babes know how to "ROCK" my hair well, they make me so proud, just take a look at my customers hair pictures, and testimonies on our website you'll be blown away on how Bisola's Real Hair transforms a lot of the customers into looking like bill board honeys "MEGA" stars. These customers keep me on my toes in coming out with 'New' two tone silk top invisible parting inspired by the likes of Kim Kardashian, Ciara, Beyonce, and Tyra Banks full lace wigs.
A lot of celebrities can't do without this lace hair wig, what is the benefit of wearing this No glue lace wig?
The benefits of wearing Bisola's Real Hair glueless full lace wig are that they are fashionable, so current, and so up to date, so celebrity inspired. When wearing them you'll feel special and sure look so charming and beautiful.
Can average Nigerian afford the price of your product or you are targeting the high class celebrities alone?
Bisola's Real Hair is for any lady who wants to make a statement and who wants world class, top quality gorgeous stunning real virgin hair. We don't discriminate and the prices are reasonable for the best grade excellent hair.
How's life been around you as ex-beauty model?
Life's great. I still feel like a model as I'm always in the limelight and I get hundreds of e-mails from my lovely clients, telling me I am an inspiration to them, how they love my hair products, and I should never stop selling hair as my hair products are top of the range. I love the hair business I created as I get to meet some brilliant people and of course those brilliant ladies spend great money for outstanding hair.
Are you still in the modelling business?
Oh no, I gave that up a few years ago.

Are you married?
No, not yet.

What's your view about Nigerian fashion sense?
The Nigerian fashion sense is very creative with beautiful and interesting colours. Since I arrived Lagos few weeks ago, I've purchased some nice Nigerian designers clothes; I'm so excited to wear them soon.