Anambra governorship elections: APC to conduct primaries for Ngige, Ezemo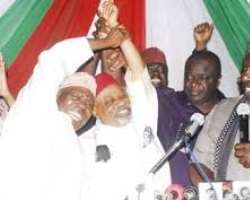 The All Progressives Congress, APC, has stated it would conduct primaries ahead of the Anambra governorship election. This is a reversal of the party's earlier decision to adopt Senator Chris Ngige as its governorship candidate for Anambra State .
According to Vanguard news,this decision came on the heels of the two leading contenders to the position Ngige and Mr. Godwin Ezemo organising two parallel rallies in Awka on Friday.
Ngige's rally which held at Ammaus House was led by Imo State governor , Owelle Rochas Okorocha and Senator Annie Okonkwo . Okorocha who spoke during Ngige's rally said, 'I am very proud of Senator Annie Okonkwo who I know, controls about 80 percent of the APC structure, but has agreed to step down for Ngige. Though he had prepared a wonderful blueprint for the development of Anambta State if he wins the race, he decided to step down for Senator Ngige because he knows that two of them cannot be governor at the same time.'
In his speech, Ngige said there is no more division in APC. His words: 'There is no longer Annie Okonkwo group; there is no longer Ngige group and very soon, there won't be Ezemo group.
Ezemo's rally held at Marble Arch Hotel and also attracted a large number of supporters. Ezemo insisted that there must be primaries for the aspirants, adding that he was prepared to work with whoever wins if he loses.
The party's primaries would now be held on September 2, 2014 to pick the party's flag bearer for the November 16, 2013 election.