Erase The Error Revival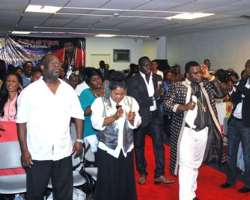 THE CHRISTIAN JOURNAL, Bronx, NY - Alabaster House Assembly located at 448 East 173rd Street in the Bronx, NY recently held 4 days revival entitled, 'ERASE THE ERROR'.
Soaked in the anointing oil, Prophet Ernest Agortey of Alabasta House Assembly, unraveled the deep thoughts and intentions of God by means of prophetic utterances as he touched specific people and prophesied into their lives.
How can we forget that we stand in a battle with Satan who have tried from the start to bring other thoughts than the thoughts of God into our lives.
He also spoke of financial breakthroughs and the prophetic ascending on the attendants. You could hear increasing loud shouts of my father my father Erase all Errors in my life from the attendants as he edge them to say. The Prophet had the crowd following every word he said, every movement he made, in fact, every sensation he felt in his body.
As their spirit bore witness, those prophetic utterances were indeed a confirmation to a reality that the Alabaster House Assembly has already begun to experience.
I am here to help the people break those spiritual barriers and generational curses that have affected them for many years. He told The Christian Journal in an interview.
Indeed it was a night of unprecedented prophetic ministrations.
DSC 3729
DSC 3731
DSC 3745
DSC 3770
DSC 3811