Ex. MBGN Queen, Matilda Kerry's Kind Of Man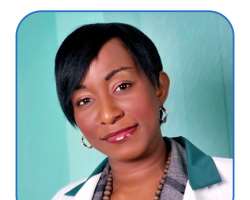 To a lot of people, Matilda Kerry, the 2000 Most Beautiful Girl In Nigeria beauty queen, may have had her best times as a beauty queen but that is not entirely over as we beg to differ, reason being that, these days, Matilda, is committed to affecting her society positively, helping to fight the scourge of cervical cancer.
George Kerry Life Foundation is her charity project borne out of her need to help women live longer. She is well applauded for pursuing this noble cause; this we learnt, gives her joy and fulfillment.
Many of her fans and followers are wondering why the eloquent lady is still single; well, she recently revealed that, marriage is all about happiness and for marriage to happen in her life; it has to be with the right man.
What then does she look for in the right man? Hear her, "A spontaneous fun person who complements me. He has to be proud of me and supportive of my work because I thrive on that. Also, he must be his own person; run his own thing and be successful at what he does. It doesn't really matter what it is as long as it's legal and makes enough money for us.
He doesn't have to be drop-dead gorgeous like Denzel Washington, but I must find him attractive in some ways. He should intrigue me and we should have great conversation."