Nigeria's economy, one of the fastest growing globally says Jonathan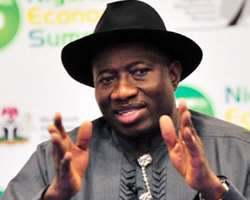 With an annual double digit growth rate of 30%, Nigeria's economy ranks amongst the fastest growing in the world and that accounts for government's aim of attaining a 4,000 Dollars Gross Domestic Product, GDP in the next ten years.
President Goodluck Jonathan made this declaration  in Calabar while performing the ground breaking ceremony for the 1billion Dollar General Electric (GE) multi service factory at the Calabar Free Trade Zone.
The President who was represented by his Vice, Architect Namadi Sambo, said the economy was witnessing accelerated development through the effective economic and transformation measures put in place by his administration in the past two years.
'We aim at achieving a 4,000 Dollars Gross Domestic Product for our people through the double digit transformation of our economy in the next ten years'.
He said General Electric by investing the sum of 1billion Dollars in Nigeria amply demonstrates its confidence in the Nigerian economy which will not only give a boost to the administration's transformation agenda but also further strengthen confidence in Nigeria's business environment by both local and foreign investors and ultimately add to the value chain of bringing more development to the country especially in its manufacturing sector.
'In 2009 we signed a strategic partnership agreement with GE and in2011, another company to company agreement was signed for GE to handle Nigeria's healthcare, energy and rail transportation and we are seeing results in that synergy'.
President Jonathan revealed that arising from his administration's confidence in GE, the company was awarded nine out of the ten Independent Power Projects, IPPs, which are due for commissioning soon and expressed confidence that the multi service projects handled by the company in Calabar would add great value to the country's manufacturing sector.
Senator Liyel Imoke, the Cross River State governor said the expected impact to Nigeria's economy through the GE project in Calabar is substantial and amplifies his administration's confidence in manufacturing and service economy outside overt dependence on oil and gas.