Ghanaian Students Stranded, Turn Beggars On The Streets Of Morroco, As Useless Ghana Embassy Fold Arms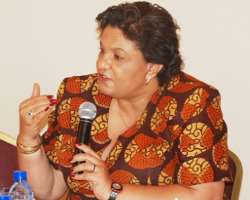 Ghana's Foreign Affairs Minister, Hanna Tetteh
It is becoming increasingly worrying to come to terms with why it is even necessary to have Ghanaian missions abroad and Africa at large. As a matter of fact, most of these Ghanaian embassies and missions in the end fail to see to the interest of Ghanaian nationals who find themselves on those foreign lands.
Over the past years, some Ghana missions and embassies abroad have proved to be more than hollow and useless as ever.
The taxpayer's money is used to run these embassies by paying salaries among others, but they tend to serve political interests instead of the interest of their own people of the same bloodline and origin.
The case has not being different at all in far away Rabat, the capital of Morocco, where reliable reports emanating from that region suggest that some brilliant but needy Ghanaian students who were sent on scholarship study have turned into beggars on the streets of Rabat.
Reports further indicate that they have run out of funds that were supposed to cater for their stay throughout the scholarship period but the scholarship secretariat which the students described existed as only 'a sitting structure' has turned down calls to help the Ghanaians with the usual flimsy political excuse that 'There Is No Money.'
What is more, the Ghana Embassy in Rabat headed by Clifford Nii Amon Kotey upon several distressed calls and requests by the students instead of helping them has rather decided to gag and warn them to be mute over the issues since their outcry and outburst can lead to loss of jobs at the embassy.
Some of the stranded students told ModernGhana as at the time they were leaving Ghana, they were never informed that they will be renting their own apartments on the same allowance of US$250 which is making life very unbearable.
Furthermore, all attempts made by the students to reach the Ministry of Foreign Affairs have proved futile with the students crying bitterly seeking simple answers to critical questions.
Typical of a battle for survival, they have borrowed monies from all kinds of people, including rich colleague Ghanaian students and other African nationals.
The sad story is that the borrowers have refused to borrow more to the already poor students since they have been unable to settle debts owed their compatriots.
Narrating the whole ordeal, one of the students, who spoke on very strict conditions of anonymity, told ModernGhana that they first petitioned the embassy of Ghana in Rabat, to be sent to the government of Ghana through the scholarship secretariat but they were later called by the ambassador for a meeting concerning the content of the letter.
The concerned student said they were told at the meeting by the Ambassador that the content and wording of the said petition was too emotional and had the potential of causing panic among Ghanaians at home and could also endanger working hands at the Ghana Embassy hence they were asked to go back to edit the content and present the petition afterwards.
'We agreed and expected some favourable feedback in return, only to realize that, that attempt by the Ambassador was only meant to buy time to seal every loop holes that could tarnish his image. After some weeks, we came up with the edited form of the letter as he had requested from us of which we obeyed blindly.
It took weeks for us to be called by the embassy to only tell us that, they are sorry they cannot send the letter any longer which was a big blow to us. We tried the scholarship secretariat and the only answer they could give us was that we can send it as many as we wanted but they were never ready to even look at it. It will surprise you if you should really know what we are going through here,' the student in question told ModernGhana.
He went on to add: 'In Morocco here, as a foreigner you need what we call Carde De Sejour (residence card) and before one can get that unless you produce a Contrat De Bail, this is a contract you and the landlord will sing at their legal institution showing that you have a place to sleep, but the landlords do not want to do this contract for us since they will be forced by the government to pay a levy.
This has caused us to move from one place to the other always looking and searching for a place to sleep. As at now we are stranded and we still do not have our Carde De Sejour because the embassy has failed to get involved. We only use our students ID cards whenever the police confront us while in town and even in certain instances, the Morocco Police reject our cards authorizing our stay in the country.
At a point in time, we were even arrested by the police until the Embassy finally got involved and we were released.'
He was quick to add that the biggest part of the whole problem was the fact that their student I.D. Cards expired recently and it is likely their woes would be deepened.
'If you finish your French year in Morocco one has to fill another form again to determine the programme that one will offer. When you are not given the programme you want to offer that is when the embassy determines who and who to help to get their programme and when you do not have anyone in the ruling government forget about help in the first place from the Embassy.
In our scholarship award letters we are supposed to receive health allowances through the embassy but the embassy have decided to use that as insurance for us; it's good but the only problem we have concerning that initiative is that they are not accountable to us when we are the main stakeholders. Apart from that it's our own annual USD$200 that is in question here. Secondly the insurance does not cover everything related to health. It's our own money and if you are not ready to give it to us when we present health check receipts then we are supposed to get our monies back.
In Morocco here, all the Degree programmes are done within three years and when one gets to Ghana that certificate is determined by the National Accreditation Board as a Diploma. But there is another one year one must study for the course in order to become a degree since the degree programmes are done in Ghana within a period of four years, but no one dares the Ghana embassy to ask for another one year to complete the programme and this has happened to most of the health students.
When one talks about what is happening here in Morocco that person is victimized by the workers at the embassy, they see that person as an enemy of progress, that person is never helped by the embassy whenever that person encounters a problem with the Moroccans or the authorities here. But if we do not talk about our problems how can they be solved,' one of the stranded students told ModernGhana.