MTN hits 200 million subscriber mark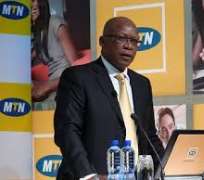 MTN Group has hit  200 million subscriber mark. And it is celebrating it with  R200 million initiative to improve the quality of education across its markets in Africa and the Middle East over the next two years.
The South African firm hit the  200 million subscriber mark a year before it celebrates 20 years of connecting people and economies.
. As a multinational telecommunications company operating in emerging markets, said MTN Group President and CEO Sifiso Dabengwa, MTN has a particular opportunity to make a meaningful contribution to social development. 'Due to the lack of access to quality education and infrastructure, and low literacy rates in most of these countries, MTN has chosen to direct a significant amount of its corporate social (CSI) spend towards education over the next two year.
This will provide people with the skills, knowledge and confidence theyneed to make positive decisions about their lives,' Dabengwa said.
In Nigeria, the telecoms company has unveiled an enhanced version of its Virtual Top Up (VTU) service known as MTN VTU Plus. MTN VTU Plus, which is an improvement on its predecessor, VTU, has been enhanced to enable customers buy airtime, purchase MTN data services, logical PINs and renew Blackberry subscription directly from any VTU terminal or vendor nationwide.
Speaking during a press prelaunch of the enhanced service, MTN's Sales and Distribution Executive, Omatsola Barrow, said that MTN VTU Plus is a unique innovation that allows MTN's trade partners and vendors to sell up to 48 different MTN products and services to their customers.
MTN Group's Nigerian unit is the market leader in Nigeria with 55.23 million customers, followed by Nigeria's Globacom with 25.0 million, New Delhi-based Bharti Airtel with 21.59 million, and Abu Dhabi-based Emirates Telecommunications Corp.' Etisalat with 15.3 million, according to data on the NCC's website.
The telcos have responded by becoming more focused on investing to improve service and also to focus on non-voice revenue as the proliferation of smartphones, including the iPhone and blackberry is helping stimulate data usage and revenue.
MTN Group, Africa's largest wireless operator, last week said first-half profit rose 22 percent, exceeding estimates, after subscriber numbers increased in markets including Nigeria.
Operations in Nigeria were also the biggest contributors to data revenue growth, according to MTN, as sales advanced 9.8 percent to 65.2 billion rand ($6.5bn).
'MTN Nigeria continued to show consistent month-on-month improvements in its operational metrics,' the Johannesburg-based company, said in a statement., noting that 'the recovery in our Nigerian operations is expected to continue over the second half, supported by a strong capital expenditure programme.'
MTN invested $1.3 billion last year to expand its network in Nigeria, and Airtel and Etisalat have announced additional investments to improve their speed and capacity.
Wael Ammar, commercial officer of Etisalat Nigeria, announced that the firm will raise funds from Nigerian banks to enable it improve on network coverage across the country.
'We are investing $500 million (N8bn) this year to expand our network and services to Nigerian consumers,' Ammar said during the Reuters Africa Investment Summit, in April, 2013.
While all the networks face challenges including frequent power cuts and the sabotage of phone facilities in the country's mainly Muslim North, analysts say the sector still offers opportunities.
'Although the growth in voice subscription has slowed, the data segment still offers growth opportunities for the operators as data subscribers grew by around 29 percent m-o-m to 57.7 million in June,' said FBN Capital.