Imo Day: Houston Mayor Promises Okorocha, Ihedioha, Others Memorable Event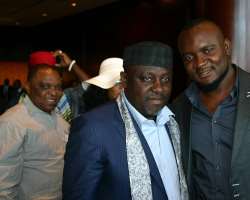 Prince Unegbu with Gov Anayo Rochas Okorocha in Houston
As Imo indigenes resident in the United States get set to celebrate the 2013 Imo Day in Houston, Texas, Mayor of Houston, Annise Parker has promised the Imo State governor, Rochas Okorocha, Deputy Speaker Federal House of Representatives, Rt. Hon. Emeka Ihedioha as well as others attending, a memorable event.
Parker, who spoke when she played host to the organisers of Imo Day USA 2013" in her office in Houston, said all arrangements would be put in place towards making the event a huge success, adding that Houston remains the strongest base of Nigerians as regards business in the US.
"I welcome the Imo Day USA 2012 participants to Houston for their celebration of Imo cultural heritage. It is an honour that you have chosen our city for your 2013 cultural exhibition.
"Houston and Nigeria share extensive business and cultural connections. Nearly two dozen companies headquartered in Houston operate subsidiary locations throughout Nigeria. In addition, Houston ranks as Nigeria's largest US trade partner. We value our citizens of Nigerian ancestry and appreciate the community's rich contributions to the social fabric of our city. Please accept my best wishes for a successful event," the Houston mayor stated.
Briefing Mayor Parker earlier, organiser of the event, Prince Emmanuel Unegbu, said the 2013 Imo Day USA, scheduled to hold on September 28, 2013, would showcase the rich cultural heritage of Imo State as well as promote the state's investment and tourist potentials.
He informed that well-meaning Igbo sons and daughters expected at the event include Imo Governor, Owelle Rochas Okorocha, House of Representatives' deputy speaker, Rt. Hon Emeka Ihedioha, deputy governor, Prince Eze Madumere, Senators Hope Uzodinma, Chris Anyanwu, Mathew Nwagwu and several others who had helped to develop the state.
The event, which will witness award presentations to select Imolites, will also have them discuss the topic: "Imo Yesterday, Today and Tomorrow."
Guests will be treated to traditional Bongo Music, Imo masquerade dances and Abu Igbo Mbaise music, as well as other renowned music stars who hail from the state.
PRINCE EMMANUEL UNEGBU WHEN THE LATTER VISITED MAYOR OF HOUSTON AT HER OFFICE RECENTLY IN HOUSTON
PRINCE UNEGBU WITH GOV ANAYO ROCHAS OKOROCHA IN HOUSTON