Hope rises on malaria vaccine as trials start next month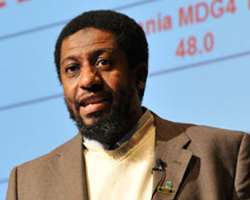 The world is nearing a breakthrough in malaria prevention. A malaria vaccine has passed critical stages of test and all hopes are that it will pass the last one which is just setting off in Tanzania.
Tanzania is the first country in Africa where the PfSPZ malaria vaccine will be tested to prove its efficiency and see how it reacts in different age groups. The first trials will be carried out at the Ifakara Health Institute (IHI) in Bagamoyo, Coast region, starting next month.
Results of Phase I clinical trial of the PfSPZ vaccine developed by Sanaria – a US company, which were published last week, show that the vaccine provided complete protection against malaria in subjects who were exposed to the malaria parasite – Plasmodium falciparum parasites. The parasite causes more than 600,000 deaths annually. 'We want to see if results obtained in the US can be replicated in Africa where malaria is rampant and whether if we can improve protection by increasing the dose.
Instead of a 3-month follow up that was done in the US, we will it do for one year in Bagamoyo,' the Executive Director of IHI Dr Salim Abdulla said yesterday. He said Sanaria approached IHI last year and the Institute agreed to do the first trial in Africa.
IHI has one of the most advanced clinical trials facilities in the continent, in its Bagamoyo branch where the tests will be conducted.
The study will involve 54 subjects, according to Dr Abdulla who added that the individuals, aged 18-35 have already been recruited and the trials are scheduled to begin in mid-September.
Scientists had previously been skeptical of the vaccine because producing it required overcoming massive logistical hurdles. The vaccine acquired the name PfSPZ because it is made from sporozoites (SPZ), a stage in the life cycle of a malaria parasite Plasmodium falciparum (Pf) – uses a weakened form of the whole parasite to invoke an immune response.
In Phase I safety trial, the six subjects given five doses intravenously were 100 percent protected, while five out of six unvaccinated developed malaria and so did three out of nine people given only four doses of the vaccine.
He said most malaria-vaccine candidates are recombinant-subunit vaccines containing just a handful of parasite proteins, but Stephen Hoffman a veteran malaria researcher who also led the PfSPZ clinical trial decided to test the whole-sporozoite vaccine on the basis of past experiments of 1970s which showed that strong and long-lived protection could be obtained by exposing volunteers to thousands of bites from irradiated infected mosquitoes.
'What makes this vaccine unique is that since 1970s, scientists knew that people bitten by mosquitoes that had been irradiated with X-Ray get protected from malaria.
This we have known for many years. The challenge was to get these mosquitoes feed on people. So what Sanaria did was to isolate the parasite from the mosquito and develop a vaccine in a form that can easily be administered leading to full protection,' the IHI Chief explained.
"The trial results constitute the most important advance in malaria vaccine development since the first demonstration of protection with radiation attenuated sporozoite immunization by mosquito bite in the 70s," said Stefan Kappe, a malaria researcher at the Seattle Biomedical Research Institute in Washington, who was quoted by the international weekly journal of science, Nature News.
Funds for the PfSPZ trials in Tanzania will come from multiple sources including Sanaria, Swiss Tropical and Public Health Institute and some private sources. Dr Abdulla however cautioned that, 'It could take some years before the vaccine can be used for mass administration.'
Sanaria succeeded in raising mosquitoes in sterile conditions on an industrial scale, feeding them blood infected with the malaria parasite and then irradiating them to weaken the parasite so that it can still infect people but not cause disease. Billions of parasites were then harvested from the mosquitoes' salivary glands, purified and preserved.
Some scientists argue that even if the vaccine has shown to be highly effective in the field, logistical difficulties might limit its applicability. In mass vaccination campaigns, hundreds of people are vaccinated within minutes, so vaccines are usually given orally or by injection into or just under the skin, however, intravenous injection is more cumbersome.
'In 2011, a clinical trial of PfSPZ given under the skin reported disappointing results, protecting only 2 of the 80 subjects. But the need to deliver the vaccine intravenously 'is not a show-stopper',' Nature News quotes Hoffman, noting that the volume of vaccine – 0.5 millilitres is tiny and requires a tiny syringe, however the company is exploring ways to improve the intravenous delivery system.
Another logistical hurdle, some scientists argue about is that the vaccine must be kept frozen in liquid nitrogen vapor phase. However, Hoffman argues that the vaccine can piggyback on veterinary infrastructure in places that use liquid nitrogen to store and transport veterinary vaccines and semen for artificial insemination of livestock.
"If you can carry semen into the deep Saharan belt and remote areas, why can't you do that for a human vaccine?" says Marcel Tanner, Director of the Swiss Tropical and Public Health Institute in Basel, Switzerland.
On whether challenges in administering the vaccine would limit its use to a few individuals like tourists, diplomats and business travelers rather than benefitting the masses in African, Dr Abdulla said: 'The vaccine is developed to be used in Africa that is why we are testing it in Africa… otherwise we wouldn't do these tests here. Well, it may not be used by each and everyone. Initially it will be used on specific individuals in specific areas where other measures have also been applied.'