DPP will win a free and fair election -Edijala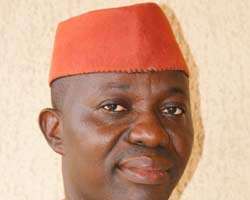 After several weeks of consultations, Olorogun Abel Edijala, a two-time governorship flagbearer in Delta State, finally declared interest in the race for the bye election to fill the vacancy left by the passage of Senator Pius Akpor Ewherido to represent Delta Central Senatorial District in the Senate.
In this interview, he explains the reason he is the best candidate for the seat and why his platform, Democratic People's Party, DPP, remains the party to beat in Delta State. Excerpts:
You seem to be among the leading contenders in this race.  Can we know what informed your ambition?
Hardly can one find any legislator, the world over, with a manifesto far different from what his or her political party has, but I have taken time to draw out my personal attributes vis-a-vis my understanding of the legislative process knowing fully well that I cannot promise to provide roads, bridges, power etc, like the executive arm of government will do.
I believe that all political parties generally are looking for the same thing: a strong economy, good jobs, clean environment, high quality of life and the best education system possible for our children and grandchildren.  Yet the parties have different ways of getting their goals achieved.
As a member of the Democratic People's Party (DPP), I believe government should have a limited role in our lives and believe in the right of the citizens, private sector and free market. I don't just believe in social engineering, I am welfarist cum capitalist. I support a progressive tax regime and will work to strengthen families and small businesses.
You are aspiring to go to the Senate at a time the members of the National Assembly have come under intense criticism for not showing how best to be legislators in a constitutional democracy- How do you feel?
I believe as most Nigerian do that many senators today are wolves in sheep's clothing, but this has to change with younger minds being infused into the chambers.
People look up to the Senate for its supposed high-minded, impartial reasoning and good judgement on issues of national importance. If previous Senates were any guide, the public has been sorely disappointed, as most of the senators were political old-timers, particularly former military dictators and retired government officials.
Only a small minority have been academics, social workers, human rights activists and independent thinkers. The problem has been that the majority of those senators with political connections couldn't be trusted as it was much easier to profess impartiality than to practice it. I promise to bring to bear all my international experience as a policy advocate by using my agenda setting techniques to turn things around for our country.
Can you tell us what stands you out of the pack of aspirants?
Having spent well over 20 years in the transport sector as well as the oil and gas industry, first as Chairman / CEO of Express Cargo Liner Shipping Company Ltd, a wholly Nigerian owned ship owning and management company in the downstream sub-sector of our economy and now the Chairman of Chart and Capstone Integrated Ltd, which is very active in power and gas, I have had an excellent training ground for life in politics, where staff members and colleagues tend to fall into a single category: outspoken and extroverted.
When you're working as an elected official, you come in contact with a lot of outgoing personalities. As a result, the political world is a little bit easier for me to handle in terms of personalities. The same goes for political office where national income-and the way it is spent is under constant scrutiny. We don't need a backbencher as our senator.
I have a track record for speaking my mind as was the case in the governorship debate of 2011 on Channels TV when I ran for the governorship of Delta State under the Labour ticket.
The late Senator Pius Ewerido, who represented Delta Central in the upper legislative chambers, was said to have been active on the floor of parliament.  How do yo intend to build on that record?
I have learned courtesy of my background in transport that you cannot do anything all by yourself without collaborating with others. Winning an election is about winning good things for your constituents, and not personal gains. The transport sector is a key driver of modern economies and forms the first impression when investors come to our country.
A good transport policy will enhance movement of goods and services which is the catalyst for economic growth. I intend to use my vast experience in this sector to reshape and revolutionize our intermodal transport system within the one year that is left in the life of the 7th Senate, if elected. My understanding of the Senate is that it is a deliberative body, a protector of minority rights, a promoter of compromise, a 'cooling factor' in the legislative process (i.e the House of Representatives boils the water and makes the tea, but the Senate allows it to cool), as 'states' ambassadors' and as an advisory body. I promise to help maintain the Senate traditions with some positive innovations. I hereby offer myself to serve in the senate committees that will bring the desired change to our body politic.
On the registration of APC.
APC is a good party and it's a welcome development. I have always been an advocate of a two-party system in Nigeria, so I congratulate members of the new party as well as INEC that went the full hog without interference from any quarters. In Delta State, nothing has changed.
We have had DPP and PDP as the dominant parties with ACN now APC as the subterfuge. I wish APC well but I know it takes a while before you can win the confidence of the grassroots. Without running the risk of shutting anyone out, Delta State will continue to be dominated by DPP in a free and fair contest and I have no doubt that DPP will regain the seat at the Senate.
Ordinarily, there ought not to be a bye election to fill the vacancy because DPP as a party won the seat in the 2011 general elections going by the precedents in the Amaechi case where the Supreme Court ruled that parties not individuals win elections.
Currently the Electoral Act is silent on bye elections but I think the fair thing to do would be for DPP to provide a replacement through their internal mechanism under the close supervision of INEC. This way, we can steam the possibility of disgruntled elements exterminating elected persons just to bring everybody to the starting line again. We have to find a way of discouraging electoral expenses both for the government and the contestants alike.