APGA And Disqualification: "Reaction From Mr. Oseloka H. Obaze"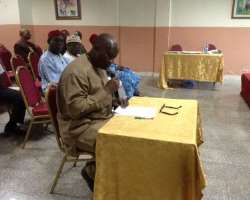 I have just received a Provisional Certificate from the APGA Gubernatorial Screening Panel advising that I have not been cleared due to a technicality.
I intend to revert to the Screening Appeal Panel in due course and within the window allotted for the appeal process. I remain optimistic that this temporary setback will be duly addressed.
16 August, 2013
-----------------------
Obaze 2014 Campaign
Tel: 08111-722-123
Mr. Oseloka H. Obaze