INTERCONTINENTAL BANK DOWNSIZES, AGAIN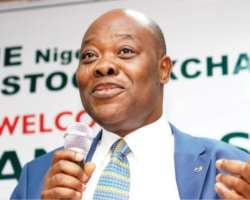 nerPostTitle">INTERCONTINENTAL BANK DOWNSIZES, AGAIN Written by furtune Business http://www.nigerianbestforum.com/blog/?author=25 http://www.nigerianbestforum.com/blog/?cat=13 Mar 2, 2010
Intercontinental Bank downsizes, again
By Oluwaseyi Bangudu
March 2, 2010 04:20AM
http://www.nigerianbestforum.com/blog/wp-content/uploads/2010/03/dt.common.streams.StreamServer7.jpeg Lai Mahmud Alabi MD/CEO, InterContinental Bank.
Photo: SUNDAY ADEDEJI
Barely two months after it laid off about 1400 members of staff, Intercontinental Bank Plc, one of the rescued banks, has again laid off another 1200, bringing the total number of sacked staff to almost 3000 in three months.
The bank, according to a statement issued yesterday, said the downsizing of its Support Staff cadre by 1182 is part of its repositioning exercise.
'Intercontinental Bank has announced the down-sizing of the Support Staff cadre by 1182 as part of the repositioning exercise in the Bank. The disengagement exercise, which took place yesterday, marks the conclusion of the right-sizing exercise embarked upon by the Bank last December,' the bank statement said.
The bank also said the exercise was carried out after due consultation with the National Union of Banks, Insurance and Financial Institutions Employees (NUBIFIE), and the local chapter of NUBIFIE, where the terms of disengagement were agreed upon.
The bank claims that the exercise was done based on clearly-defined criteria agreed by the Union and the bank, which will see the affected staff leaving with an enhanced severance package approved by the Board of Directors of the bank and in line with the collective agreement with NUBIFIE.
'Each of the affected staff will have access to three months free Medicare under the existing Health Insurance Scheme (HIS),' the statement said.
In December 2009, the bank eased out about 1339 members of its staff as part of its restructuring exercise.
Shareholders' Interest
The bank last year launched a three-phased 'Project Transformation' strategy aimed at stabilising, rebuilding and consolidating the bank for greater efficiency and profitability.
'The exercise, which is part of the strategic plans to reposition the bank to profitability level, affected Senior Manager to Executive Trainee Grades. This exercise was carried out with due consideration of a number of assessment criteria,' it said.
Hassan Adeleke, the National President of NUBIFE said the union is aware of the layoff. 'It is true that we were notified. The Nigerian Labour Congress (NLC) is aware, NUBIFIE is aware and even ASSBIFI is aware. We had a dialogue with them and we were able to win what I think is right at this point. By this, we can follow up the lay off process. That they informed bank unions means they have followed due process. If there is any fallout of our agreement, we would be able to take it up with them,' he said.
The bank also faulted a story that it has concluded plans with Standard Bank for the acquisition of stakes in Intercontinental Bank.
Intercontinental Bank's Group Managing Director, Mahmoud Lai Alabi, said although the bank is in the process of discussion with all those who have indicated interest in the bank, including Standard Bank, 'no detailed discussion or negotiations have even commenced, not to talk of allotment of shares.'