LAGOS GOVERNOR SIGNS 2010 BUDGET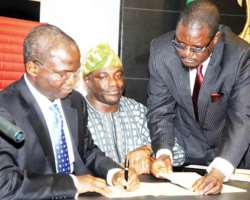 nerPostTitle">LAGOS GOVERNOR SIGNS 2010 BUDGET Written by furtune Politics http://www.nigerianbestforum.com/blog/?author=25 http://www.nigerianbestforum.com/blog/?cat=57 Mar 2, 2010
Lagos governor signs 2010 budget
By Chinedu Ozordi
March 2, 2010 05:05AM
http://www.nigerianbestforum.com/blog/wp-content/uploads/2010/03/dt.common.streams.StreamServer2.jpeg Babatunde Fashola of Lagos State, Kolapo osunsanya, Chairman, house Committee on Budget and Appropriation, and Abdullateef Abdulhakeem, Special Adviser to the Governor on political and Legislative Bureau, at the signing of 2010 budget into law in Lagos yesterday. Photo: NEXT
The Lagos state governor, Babatunde Fashola, yesterday signed the 2010 Appropriation Bill of N389.570 billion into law.
The budget had been passed by the Lagos State House of Assembly on February 25, 2010. The initial budget sent to the House by the state governor was N429.596, but the lawmakers had slashed the sum by N40.026 billion.
However, Mr. Fashola commended the lawmakers for doing a 'thorough job' on the budget, and pledged that his administration will continue to implement people-oriented projects that would strengthen democracy in the state.
'With this, we will be able to create more jobs, provide security, transportation and potable water for the residents,' he said. 'It will assist us in performing the duties and programmes for which the electorate elected us, and fulfil our commitment to the society.'
Departure from the norm
For the past seven years, the state lawmakers have not made any significant adjustments to the annual budget sent to them by the executive arm of government. Last year, the lawmakers passed the sum of N405 billion that was sent to them by Mr. Fashola for the 2009 appropriation Bill.
Mr. Fashola's tradition of signing the budget on New Year's Day was also altered by the delay of the Lagos Assembly in passing the bill in time. The governor had, as usual, submitted the budget proposal to the lawmakers in November 2009.
The reason for the cut
The Chairman of the Assembly's Appropriations Committee, Kolapo Osunsanya, presented a report to the House on February 23 which was adopted by the lawmakers with few amendments.
The report, while noting that the state's 2009 budget 'did not perform badly' contained some findings which indicted some government agencies of financial misappropriation.
The report, which accused the state executive of ignoring the Assembly's recommendations based on the town hall meetings held across the forty constituencies in the state in preparing the 2010 budget, also noted that 'it is important to make adjustments in the area of capital expenditure due to the debt profile of the state.' It therefore recommended that the 2010 capital expenditure be reduced from the proposed N250.778 billion to N224.196 billion. Another major cut was the overhead cost which was reduced from N55.079 billion to N45.079 billion. The reason cited by the appropriation committee for this was that 'the yearly approved personnel cost of the state when compared with the actual always shows a wide difference'.
Governor Fashola also used the occasion to sign the Lagos State House of Assembly Service Commission Bill into law. The new law will enable the setting up of a commission which shall handle manage the staff attached to the House.
'The commission will help in the expansion of the principles of separation of powers and grant the House the power to conduct its affairs,' Mr. Fashola said.