COURT STRIKES OUT SUIT SEEKING YAR'ADUA'S OUSTER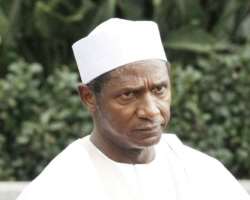 nerPostTitle">COURT STRIKES OUT SUIT SEEKING YAR'ADUA'S OUSTER Written by furtune Politics http://www.nigerianbestforum.com/blog/?author=25 http://www.nigerianbestforum.com/blog/?cat=57 Mar 2, 2010
Court strikes out suit seeking Yar'Adua's ouster
By Agwu Benn Agwu
March 2, 2010 09:56AM
http://www.nigerianbestforum.com/blog/wp-content/uploads/2010/03/dt.common.streams.StreamServer1.jpeg The present political crisis bedevilling the nation over the health status of President Umaru Musa Yar'Adua should be resolved though political and not judicial means, the presiding judge of a Federal High Court in Benin City, Edo State, Chukwurah Nnamani, said on Monday.
Mr. Nnamani stated this in his ruling on suit number FHC/B/CS/2010 in Patrick Osagie Eholor Vs the Attorney General of the Federation and Minister of Justice, Senate President and the Speaker of the House of Representatives.
The case
A Canada-based industrialist, Mr. Eholor had urged the court to compel the Executive Council of the Federation to declare Mr. Yar'Adua incapable of discharging the functions of his office on grounds of ill health, in accordance with section 144 of the constitution.
Citing the example of the Philippines, where government was brought down through people's' power Mr. Nnamani said: 'this kind of matter is not for the court but for the people to put pressure on politicians to do the right thing. The politicians should be left to settle their matter themselves.
The court cannot interfere following the principle of separation of powers.'
While the judge commended what he described as the patriotism and doggedness of Daniel Ogbeide, counsel to applicant, he aligned himself with the previous judgment of the Chief Justice of the Federal High Court in the Nigerian Bar Association (NBA) Vs Attorney General of the Federation (AGF).
Abuse of process
He went further to explain that 'granting this application would amount to abuse of court processes' and consequently struck out the suit. A few days after Mr. Yar'Adua's arrival in the country from his medical sojourn in Saudi Arabia, Mr. Eholor also sought a judicial intervention at the Federal High Court by way of mandamus compelling the senate president and speaker of the House of Representatives to establish a medical panel to ascertain if the president can still withstand the rigour of governance.
The applicant's counsel, Mr. Ogbeide, had insisted that the relief his client was seeking is different from that in the case that the chief justice adjudicated on. He added that his client was interested in pushing the second relief, against the senate president and speaker of the House of Representatives, to order the resolution of the Executive Council, especially as Mr. Yar'Adua has reportedly declared that he cannot take over powers until he is fully recovered and is physically fit to govern the nation.