I can't Marry An Actor-Tonto Dikeh Declares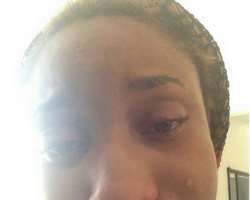 It has been discovered that this well-known actress just loves to talk and it seems it's really paying off. The other day, she was quoted to have hit Mercy Johnson, another co-actress, the attack was so fierce that even fans of the mother of one, Mercy fought for her.
As you have all known that with the kind of life she lives, Tonto Dikeh, the beautiful actress and love are two parallel lines that can never meet.
"I am not too strong to fall in love; I am human and I have feelings too. I don't think there is any woman on earth that has not experienced love in one form or the other.
But it's not possible for me to marry an actor; I can never be caught doing that," Tonto explodes.
She said about herself, "I am a role model to those who see me as one; I am sure Nigerians out there see and read all these things and they laugh. I am sure there are people out there who appreciate what I do as an actress and hope to someday achieve what I have achieved as a thespian." Her respond to why she is controversial incline sent a blow to her fans.
"My career thrives on everything; my career thrives on all the ups and downs that I have been faced with. But most especially, the controversies have made me stronger and wiser. I don't care about them because they don't care about me; everyone is entitled to his or her own opinion. I live my life the way I want to. People should also remember that I am human and no one is perfect.