An Open Letter to Godswill Akpabio: Ibibio dares you to Frame-Up Umana Okon Umana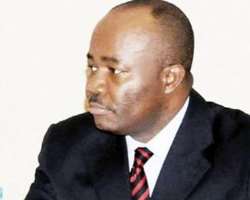 Dear Mr. Godswill Obot Akpabio:
Umana Okon Umana may not be the best Ibibio person alive, but he is our son, an Ibibio son. Umana Okon Umana may be considered by other persons of Ibibio extraction as a traitor, but he is our traitor—the traitor of Ibibio—; every ethnic group, community, and society has people of his kind among them. And I am sure that the Annangs, too, do have at least one traitor among them.
The Ibibio persons (including me) that are opposed to the governorship aspirations of Umana Okon Umana do not want him dead or do so because we hate him. Rather, our opposition is on the basis of his association with you and for not being bold enough to stand up and condemn your heinous behavior while you were busy hurting, kidnapping, assassinating, and murdering several Ibibio sons and daughters.
Our quarrel with Umana Okon Umana is that of parents against a son; that of brothers against a brother; that of sisters against a brother and; that of kinsmen against their fellow kinsman; —-nothing more, nothing less.
If you think you have the right to take advantage of our misunderstanding by planning to hurt Umana Okon Umana, you would be making the biggest blunder, which you may ever live to regret.
Before I continue, sir, let me repeat that Umana Okon Umana is an illustrious Ibibio son, his mistakes and frailties notwithstanding. We do not have problems over your cowardly removal of him from office. We understand that you appointed him into that position; therefore, you had the right to remove him. Our only regrets are that if he had listened to the warnings of his kinsmen (such as mine), he never would have waited for you to remove him from the office in the manner you did.
However, reliable sources have confirmed to us of a recent meeting you held with your group during which you deliberated on how you are going to 'finally do away with Umana.' At that meeting, you discussed and deliberated extensively and seriously on a plan to assassinate a prominent Ibibio leader and frame-up Umana as the culprit, thereby affecting his arrest. At that meeting, you also deliberated on the alternate decision to kidnap Umana's wife with plans to keep her in captivity until Umana spends all the money he has piled up for election before his wife would be released.
Mr. Akpabio, if past history did not support the fact that you are capable of resorting to this type of atrocities, I and many others would not bother to expend our needed energies to write and worry about this issue.
During the 2010-2011 gubernatorial election, you issued the order for Comfort Ewang, whose husband was also a governorship candidate, to be kidnapped. In spite of pleas by her husband to you in the presence of Chief Nsikak Eduok, you were so heart-hearted that you refused to order her release. It was only after her husband, Group Captain Sam Ewang, had paid close to a billion naira before you affected her release.
When Senator John James Udoedehe declared his intention to run for the same position, you ordered kidnappers to pick up his aged mother. The plan failed because the woman left home for a doctor's appointment, just ten minutes before your kidnappers arrived at her house.
Iniekong Udonwa left his business in Singapore to contest against you. Rather than let the electoral processes to decide who the people picked as their choice, you went after him. One evening, he was returning from a campaign rally, when gunmen, sent by you, accosted him. They shot at him but he was lucky to escape with his life. In spite of the bullets embedded in his body, he managed to escape to Singapore.
His escape irritated you so much that you ordered the kidnapping of his 72 year old mother. As soon as you realized that Iniekong had managed to flee to Singapore, you ordered his kidnapped mother murdered. Her nude body was thrown by the roadside. Till this day, the Ibibio people are wondering how you would have felt if Mamma Udonwa happened to be your own birth mother.
In the heat of the frenzy for the 2010-2011 campaign, all Paul Inyang did was to say hello to his kinsman Obong Victor Attah. That irritated you. The next day, Paul Inyang was assassinated. At first you blamed his assassination on Monday Akpautong. His house was bulldozed and he had to flee the state for his own safety. When the frame-up of Monday Akpautong failed, you turned to Steve Ibanga, who was also a governorship candidate. You destroyed his fish farm and other properties in retaliation.
When your nonsense on Steve Ibanga failed, you went after Senator Udoedehe as the culprit. The rest is history.
This letter is to inform you that Ibibio people are tired of your madness. Just because you are covered from prosecution by the Immunity Clause is no reason you should deceive yourself into believing that you have the right to kill, maim, kidnap, and frame-up Ibibio people at will.
If your madness ever leads you to be stupid enough to hurt Umana Okon Umana, he will be the last Ibibio man or woman that you would ever mess with. This time around, the Ibibio are ready to take all that would be needed to let you know that we will not let a single mad man to treat us as nothing by trampling and infringing on our right to perform our civic responsibilities for our own people.
Dear Mr. Godswill Akpabio, if you hurt Umana Okon Umana, the Ibibio will hold you responsible. And we will retaliate in our own way, even if it takes 20 years of planning. So, be warned!
Ikpafak Thompson Essien
The Voice of the Poor Masses
Defender of the Oppressed
Social Critic
A native of Ibibio nation of Ubium Republic extraction, now living in the safe and beautiful city of Portland, Oregon. and Akwa Ibom State politicians can reach.