Somalia Updates: KDF And Allied Militia Suspend Humanitarian Work Amid Polio Outbreak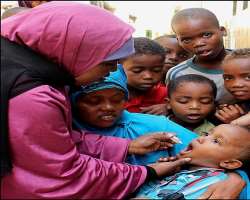 The Kenyan forces occupying the city of Kismayo in southern Somalia and their allied clan militia have suspended the operations of all major non-governmental organizations in Kismayo.
The ban on aid agencies and humanitarian operations in Kismayo will affect thousands of poor people, mainly women and children in internally displaced camps.
Moallim Abdi, a junior warlord within the ranks of Raskamboni clan militants said 'the work of all aid agencies in Kismayo has been suspended effective tomorrow (August 12) at 8:00am' to a large number of reporters.
This announcement will be detrimental to the survival of thousands of vulnerable people who rely on humanitarian agencies for basic necessities including food items and medicine. The announcement also comes at a time when there is severe polio outbreak in Somalia.
This obstruction of humanitarian work in Kismayo will cause the deaths of many innocent people. It will also cause long term disability to many others who cannot get immunized from the polio epidemic that is causing worldwide concern. The obstruction also comes against UN Security Council resolutions that prohibit armed groups from interfering with humanitarian work.
Kenyan forces and allied clan militia in Kismayo were accused of obstructing humanitarian work, committing gross human rights violations including massacre and mass rape, and promoting illegal charcoal exports which fund terrorist groups in Somalia. This ban on humanitarian work in the city is a deliberate attempt on the part of the Kenyan forces to deepen the misery of the local poor.
Life in Kismayo is at its worst since the fall of the central government of Somalia in 1991. Kenyan forces are using every inhumane tactic to displace all residents of Kismayo who do not belong to the Raskamboni militia.
The only hope for these voiceless civilians is a recent complaint filed at the International Criminal Court which may result in the indictment of senior Kenyan military officials for their roles in the Kismayo massacre.