APC will adopt new leadership style - Gov Shettima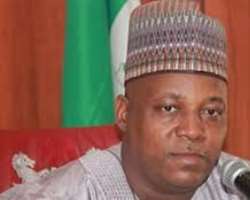 Gov. Kashim Shettima of Borno state on Monday in Maiduguri said that the All Progressives Congress (APC) would adopt a new leadership style and offer exemplary leadership to Nigerians.
Shettima told newsmen that the party would tackle poverty in the country by addressing their underlining causes.
'Governance is not about having large sums of money in bank accounts, it is about changing peoples' lives for the better.
'The APC will no doubt meet the aspirations of the people, especially those at the grassroots by improving their living conditions,'' he said.
He said the party would create jobs in the agricultural, industrial and other sectors of the economy, to address the root causes of poverty at the grassroots level.
'We have to evolve strategies to create jobs for our youths because youth employment is crucial to the survival of the nation.
'Very soon we will leave office and all the security apparatus around us will be gone and we will return and live with the people,'' he said.
The governor urged Nigerian leaders to safeguard the future by striving hard to tackle unemployment among the youth.
He commended the Borno Youth Vigilante Group for tackling the Boko Haram insurgency, and described them as God sent.
According to him, the emergence of the vigilante group can best be described as divine intervention; hitherto everybody is afraid to talk about Boko Haram.
'By now a group of youths, armed with only sticks and cutlasses have succeeded in chasing and apprehending the gunmen known as Boko Haram militants,'' he said.
Shettima said that government would soon offer employ opportunity to members of the group as a reward for their courage. (NAN)