Just Health In Anambra State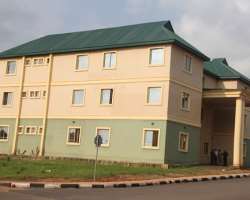 At the time Gov. Peter Obi came to Anambra, no single health institution was accredited in Anambra State. Today many of them are.
Besides not being accredited, Amaku was simply a General Hospital. Today, Obi has turned it into a Teaching Hospital, the first and only one in Anambra State.
The attached buildings are the structures Gov. Obi built in the place from the scratch, including vehicles procured for them as well as some on-going projects.
Some of the buildings are House Officers' Quarters, Consultants' Clinics, Lab, Mortuary and Pathology building, Administrative Block, Accident and Emergency building, Male Ward, Female Ward, Pediatrics Ward, General Ward, Hostel, Theater, among others.
The place is also stocked with equipment.
What do you have to say about these structures????
IMG 1085
IMG 1086
IMG 1087
IMG 1088
IMG 1089
IMG 1090
IMG 1091
IMG 1092
IMG 1093
IMG 1094
IMG 1095
IMG 1096
IMG 1097
IMG 1098
IMG 1099
IMG 1100
IMG 1101
IMG 1102
IMG 1103
IMG 1104
IMG 1105
IMG 1106
IMG 1107
IMG 1108