Adeboye preaches nation's rebirth, anounces creation of 20 new provinces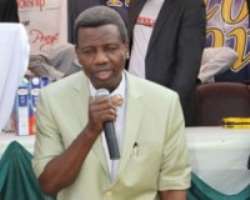 The General Overseer, the Redeemed Christian Church of God, Pastor, Enoch A. Adeboye, has charged Nigerians to embrace Christ-anchored change in order to achieve national rebirth.
Adeboye also during the 61stconvention of the church which ended at Redemption Camp, Lagos-Ibadan Expressway on Sunday also announced the creation of 20 new Provinces, bringing their number to 160.
The yearly event draws worshippers from across the world. Over one million worshippers of Christ  gathered on Friday, which is the peak  of the one week event, to hear the highly revered pastor.
'IF there is any single word that symbolises Jesus, it is the word change, that is why when you encounter Jesus, there must be a change.  When you encounter Jesus, He not only changes you but also makes you a change agent,' Adeboye said in a sermon in the wee hours of Saturday.
'When he changes you, He expects you to change your city. He changes you so that you can change your country. Look at the large number of us here, if we take our stand in Jesus Christ seriously, if we really have genuine encounter with Jesus, we are more than enough to change this nation,'  the cleric said.
He charged Nigerians to make up their minds to become instruments of change in the society.  Adeboye who spoke taking his texts from relevant portions of the Bible said everything about Jesus spelt out change and He never left a man the same way He met him.
He, therefore, charged citizens of the country that as followers of Jesus Christ, the onus lies with them to change the nation to one that could be envied by every other country of the world.
Adeboye said truncated destinies could be changed to total freedom, complete restoration and new level of achievement.
He noted that the same way Nigeria can be restored back to its glorious past if only Nigerians themselves can be determined to take the country's destiny in their hands as no foreigner would be able to bring the country to its place of new direction, noting that nothing is too late for Jesus to accomplish.