ASUU strike: Students plan nationwide protests on Tuesday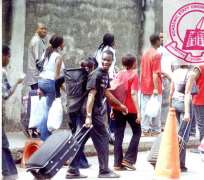 PLANS may be underway by some Nigerian students plan to jolt the nation into consciousness through a mass protest aimed at highlighting the woes bedeviling public education in the country.
This mass action billed for Tuesday is being organised by the Joint Action Front (JAF).
Under their arrangement, protesting students in the South-West zone may block all roads leading to Lagos State tomorrow.
The  protests, JAF said,  would kick off at the Nigeria Labour Congress (NLC) office at Yaba, Lagos at 8 a.m..
Similar actions are planned at zonal levels including  rallies in Kano, Ibadan, Owerri, Calabar, Abuja, among others.
JAF's action is  aimednot only at get a quick end to ASUU strike but also at drawing  attention to the bleak future that awaits Nigerian children due to the neglect of public education, 'while children of top politicians and government officials are trained in private schools in Nigeria and abroad with funds looted from public coffers.'
The Academic Staff Union of Universities (ASUU) had, on July 2, declared an indefinite strike over unresolved issues contained in the 2009 FG/ASUU Agreement. The union took the decision 'after exhausting all available avenues,' when the Federal Government breached a Memorandum of Understanding (MoU) they both signed in January 2011. One of the contentious issues was the non-payment of Earned Allowances.