Army raids hideout of suspected insurgents in Sokoto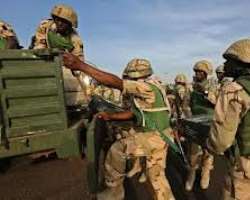 The Nigerian Army, 1 Mechanised Brigade, Sokoto State, on Saturday raided a suspected hideout of insurgents at the Gidan-Igwai area of the state.
The Spokesman of the Brigade, Capt. Yahaya Musa confirmed this in an interview.
'The operation was conducted as part of the ongoing efforts to rid Sokoto State of the fleeing insurgents from the volatile areas
like Borno, Yobe and Adamawa, among others.'
According to him, the operation was conducted as a result of tip-off from some good Samaritans in the city and its environs.
Musa said that the raid was part of a routine operation of the army.
He assured that everything would be done to ensure that the fleeing hoodlums were arrested and thoroughly investigated.
'Sokoto is peaceful but unfortunately insurgents from other parts of the country are fast making it a safe haven and we are battle-ready to dislodge them.
'The operation by the army will be sustained and intensified just like our sister security organisations are also doing theirs nationwide.
'I cannot however confirm any fatalities as at now. But scores of arrests have been made and details will be made available later,'' he said.
Musa commended residents for their support and cooperation and appealed to them to sustain the tempo.
Musa said that the task of ensuring security of lives and property of Nigerians was a collective one.  (NAN)