Shell Gas Line Leakage Sparks Up Health Scare In Oloma Community Bonny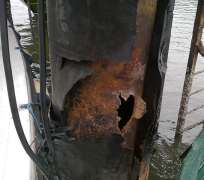 A leakage from Multinational oil giant shell gas pipeline at Oloma community in Bonny Local Government area of Rivers state is said to have sparked up serious health worries for locals, including injuries sustained as a result of panic by resident during the leak.
Although the oil company is said to have mobilized its officials to the area to bring the leakage under control, the community is however in dare need of medical officials and resources to tackle the worsening health condition of community members affected by the hazardous gas leakage.
Mr. Richard Abbey, the board of trustee chairman for the Organization of Fishermen, Sea Food Dealers and Farmers in Niger delta, (OFSDF/ND) said local fishermen in the area and community members that were physically affected by the leakage must be catered for by the company.
Narrating the ordeal Abbey explained that, one of shell's gas pipeline - well head 29 located in Oloma community got ruptured on Wednesday 7th August 2013 as a result of facility failure and corrosion in the pipeline consequently sparking up gas leakage with resultant danger on the environment and physical health condition of the people. The fault accordingly created untold panic and injuries among other things from fear that a slight spark could set off a spectacular explosion from resultant leak.
Hear him: "A Joint Inspection Investigation (JIV) carried out on the leak by officials of the company and the communities indicate there was mechanical fault. The JIV team further revealed that the gas pipeline was welded with carbon steel instead of the usually reliable steel and that caused the leak.
"As I am speaking to you some persons in the community are complaining of pains in their chest and mid rib section, some persons especially children sustained serious injuries as a result of attempts to massively evacuate human and material out of the area against looming explosion", says Abbey.
Reliable sources disclose that shell has restored normalcy in the affected pipelines, and has confirmed that corrosion in one of its pipelines was the reason for the leakage. However, there is growing angst that the company failed to take cognizance of the physical and health implications of the leakage on the community and its people.
"We are not happy, about shells attitude to their host community" says, a community leader, Asinyetogha Hart. It is unfair that such a leakage took place and affected some persons and all they could do is the concern for their facility leaving the pained to their fate. He also condemned Shell's continuous refusal to upgrade its pipeline facilities around Oloma community and Okoloma Lodge which according to him has continued to pose environmental and health hazards for the inhabitants.
An environmentalist who witnessed the gas leak in the area and spoke in confidence said the smell of natural gas is distinctively and potentially dangerous. According to him natural gas is a highly flammable compound that can have some less than desirable effects when inhaled because the gas contains methane and can lead to poisoning "The leakages has turned out a constant occurrence in the community because of failed facilities and has affected children growing up and pregnant women with their unborn children among others," he said.
In another development Shell has been told to ensure that all affected by the recent Okoloma lodge well 2 oil spill that affected both Oloma and other communities be compensated.
Richard Abbey the (OFSDF/ND) helmsman, made this request following the company's decision to compensate only those from the Okoloma lodge axis where the spill actually burst without considering others. "We are fishermen and we know that denying those affected from Oloma and other axis will spark up acrimony between brothers and increase communal strife, hence shell oil company must be told to do the right thing' he said.
THE SHELL LEAK PIPELINE IN BONNY