Amb. Sobomabo Jackrich (Egberipapa) Bags Rivers P-Man Award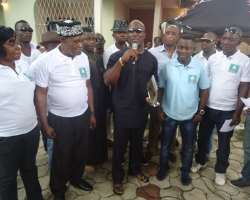 The Performing Musicians Employers Association of Nigeria, PMAN Rivers state chapter has honoured the Director General of Network for the Defense of Democracy and Good Governance, NDDGG, Amb. Sobomabo Jackrich (a.k.a Egberipapa) following his effort at grassroot empowerment and contribution to the sustainable well being of youths, musicians among others across the length and breadth of Rivers state.
Chairman of PMAN, Rivers state chapter, Arthur Pepple jnr who led other musicians to present the award at his palatial home in Asari Toru Local Government area of Rivers state, also extolled his virtues demanding for a Presidential appointments for the social crusader for his in-depth understanding of the plight of youths.
In his remark shortly before the award, Arthur Pepple described Amb. Jacrich as a lover of youth empowerment, an icon of peace, a freedom fighter, a philanthropist par excellence and social crusader.
"As members of PMAN Rivers state chapter we are equally grateful for being partakers your benevolence and magnanimity as a lot of musicians old and upcoming have benefited tremendously in terms of cash, musical equipment among others from your various programmes," Arthur opined.
Arthur Pepple who also goes by the name 'Reggae General said Amb. Jackrich has provided a mouth for the mouth less and under privilege of society. This, according to him, was the reason for the special and historical award, to reciprocate the gesture, express gratitude and give honour to whom honour is due.
The award was the first time PMAN Rivers state chapter would be awarding anyone in the confines of their home; this according to Pepple "was a demonstration of the extent of our appreciation for all he has done".
In his response Amb. Jackrich said the award came to him as a surprise, " This is actually surprising and overwhelming" he said, adding that the award will spur him to do more in an effort to continue to impact on the youths and people of the Niger delta.
Amb. Jackrich who expressed resentment in the political situation in the state, noted that the riverine people have been shortchanged for a long time hence deserve a shot at the government house. He said with the resources available to the state, Rivers state deserve not to be faced with youth challenges government should ordinarily have tackled. He expressed angst against leadership in the state saying there is need to do more especially for the budding youths.
Others who spoke include, former Rivers state commissioner for Works, Chief David Briggs, Deputy President, Nigeria Civil Service, Comrade Nzidee who both shared his sentiment about on goings in the state and called for a change.
Highlight of the event was the donation of a bus to PMAN by the peace ambassador and a resounding high profile entertainment display by various PMAN artistes.
DSC07033
DSC07056