Enugu State Royal Prince Dedicates Triplet In Grand Style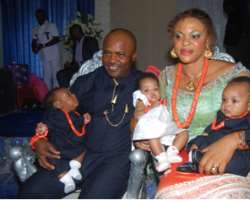 Prince And Princess Lawrence Zeh And Their Lovely Triplets
It was all jubilation for Prince Lawrence Ezeh, a royal Prince of Mburubu Kingdom, in Nkanu East LGA of Enugu state, a political chieftain, oil/gas business mogul and his lovely wife Princess Lina Onyekachi Ezeh last Sunday as they dedicated their wonderful set of triplets in grand style at the Redeemed Christian church of God.
The triplets, named Prince Emmanuel Ebubechukwu Ezeh, Princess Mirabel Christiana Onyekachi Ezeh and Prince Lawrence Uchechukwu Ezeh were dedicated at the RCCG Kings Palace GRA in Port Harcourt by Pst Soji Oni the provincial pastor who after 23 years of childlessness in marriage was blessed with a set of triplets that were also recently dedicated in the same church and Pst Edmond Osahon, the Parish Pastor.
The stunning church service which was graced by a mammoth crowd was succeeded by a, colourful and well attended reception at the Grace Events place opposite pepperoni, Evo road in GRA Port Harcourt.
Speaking to newsmen, an elated Prince Ezeh said he and his wife are extremely grateful to God for finding them worthy of the triplets, (two boys and a girl) who have continued to be a source of joy since arrival. "The triplets are perfect and wonderful gift from God, they represent an amazing blessing to their parents, they are lovable, delightful and adorable and I must confess we are enjoying every moment of their existence" he opined.
He also spoke on the dedication saying it was scriptural, "Baby Dedication is a time for parents to publicly commit themselves to the Godly rearing of their children" he said, and thanked God for the gift of the triplets.
Acknowledging the challenges associated with triplets during infancy, Princess Lina Ezeh mother of the triplets said there are always challenges but the joy normally outweighs the challenges, "no matter the challenges, our joy is what counts" she said.
The oil and gas business magnate expressed gratitude to God for preserving his wife from pregnancy to delivery and said it is only proper to dedicate the children as demanded by the holy book in a show of appreciation and thanks giving. "We are looking forward to seeing them grow into men and a woman who will inspire their generation and dedicate their lives to the cause of God by his grace" he said.
The event witnessed notable dignitaries like father of the celebrant, HRH. Igwe E.M.O Ezeh, paramount ruler of Mburubu kingdom, HRH. Igwe Luke Ogbuta, Paramount ruler of Imeoha Nkerefi all in Nkanu East LGA of Enugu state. Others are Hon. John Anichukwu, member representing Nkanu East LGA at the Enugu state House of Assembly, Chief Oris Onyiri, President Gen. of Egi Peoples' Assembly and Coordinator Rivers state SURE-P programme among other high profile dignitaries.
Prince And Princess Lawrence Zeh And Their Lovely Triplets