Presidency Fumes Over Demeaning News Report, Demands Retraction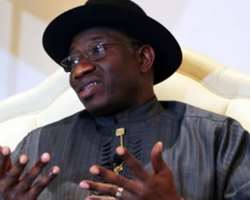 SAN FRANCISCO, August 06, (THEWILL) – The Presidency has declared as untrue and mischievous a Peoples Daily news report which suggested that former military head of state, General Ibrahim Babangida turned down a Presidential request to host President Goodluck Jonathan in Minna during the Ramadan to break his fast.
The Presidency has therefore demanded "a full retraction of the totally false report which demeans the Office of the President of the Federal Republic of Nigeria and an apology by the newspaper."
A statement by Reuben Abati, the President's Special Adviser on Media and Publicity, said the President has never visited the residence of anyone to break his fast.
The full text of the statement reads, "The mischievous lead report in the Peoples Daily newspaper today that President Goodluck Jonathan sought to visit former President Ibrahim Babangida in Minna to show him "the spirit of comradeship" during Ramadan is completely untrue.
Although President Jonathan participates in the Ramadan fast every year in solidarity with Nigerians of the Islamic faith, he has never as Vice President or President of the country visited the residence of any individual to break his fast.
Rather, it has been the President's custom to regularly invite Moslems from all strata of society to break their fast with him at the Presidential Villa during the month of Ramadan.
In keeping with that established practice, President Jonathan has been busy hosting Moslems, most evenings of the current Ramadan season.
As much as he respects and holds former President Babangida in high regard, President Jonathan has never indicated any interest in visiting him at Minna during the current Ramadan.
Therefore, there could not have been any "turning down" of a visit by President Jonathan by the former president.
We condemn the decision of the editors of the Peoples Daily to publish such arrant falsehood in spite of our vigorous rebuttal as a further manifestation of a continuing effort to sow the seeds of discord in the polity.
Although the newspaper cites a phantom "reliable presidency source" and "a source close to the former president" to buttress its fictitious report, the editors of Peoples Daily know fully well that they can never prove the veracity of the false claim that President Jonathan either offered to break fast with General Babangida in Minna or was turned down by the former president.
We therefore demand a full retraction of the totally false report which demeans the Office of the President of the Federal Republic of Nigeria and an apology by the newspaper."